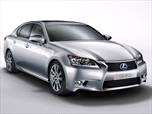 For 2015, the Lexus GS 350 luxury sedan receives a new multimedia system with 12.3-inch display screen that can be divided into three sections displaying audio, navigation and climate control. This upgrade is standard on the GS 350 and optional on the F-Sport and Hybrid trims. There are new 18-inch aluminum-alloy wheels.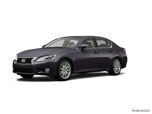 The major change for the 2014 Lexus GS is an 8-speed automatic transmission for the rear-wheel-drive version of the GS 350. New technology features include additions to the Blind Spot Monitor and Pre-Collision System, some options changes, a new Ultra-Luxury Package and refinements to various features.
About Lexus GS
In the 2015 GS 350 and 450h luxury-performance sedans, Lexus has created a 4-door luxury car with a coupe-like appearance, a long list of impressive luxury attributes and a healthy dose of performance and technology features. The GS 350's refined V6 engine delivers an impressive blend of power and economy, while the GS 450h hybrid amplifies fuel-economy figures without any appreciable loss in performance. Positioned against such stalwarts as the Mercedes-Benz E-Class, Audi A6 and Cadillac CTS, the GS rises to the task without missing a beat. From its sophisticated yet user-friendly in-cabin technology to its hushed ride and impeccable build quality, the 2015 Lexus GS 350 and 450h redefine what a luxury-performance sedan can be.