Narrow year range (drag arrows to filter):
See photos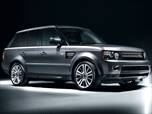 Still coming off a significant refresh for 2010, the 2012 Range Rover Sport's differences are mostly minor. New this year are a fine-tuned touch-screen navigation system with voice control, a sound system that's been upgraded to 380 watts and 14 speakers, a revised rear-seat entertainment system with wireless headphones, power open and close liftgate, plus minor grille and headlight changes. Range Rover Sport is again offered with two engine choices and in four trim levels: the base HSE, HSE with Luxury Package, Supercharged, and the top-line Autobiography edition.
About Land Rover Range Rover Sport
From its iconic square-edge styling to its impressive off-road credentials, Land Rover's 2016 Range Rover Sport luxury SUV is in a league of its own. The Brit's ability to marry wood, leather and plastic produces an interior second to none, which may help justify the Range Rover Sport's lofty price over a similarly equipped Audi Q7 or BMW X5. Land Rover knows exclusivity has its price, and those with adequate means don't usually quibble over window stickers. While we know the vast majority of 2016 Range Rover Sports will never see anything but paved roads, it's nice to know that this luxury SUV is an incredibly competent off-road vehicle, one of the best in the world, in fact.