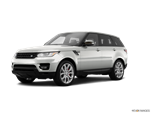 From the sleeker sheet metal down to the new aluminum unibody construction that's helped shave 800 pounds compared to its predecessor, the 2014 Range Rover Sport is a wholly new creation.
About Land Rover Range Rover Sport
With standout styling and an aura of exclusivity, the Range Rover Sport seems to inspire more lust than its more familiar BMW, Audi and even Porsche competitors. And with a 2014 redesign, the new model is even more deserving of that desire. Now more stylish, more capable and 800 pounds lighter, the 2014 Range Rover Sport is as distinct as ever, but improved fuel economy and an available 3rd-row seat also make it a more viable alternative to more common (but less pricy) midsize luxury SUVs like the BMW X5 and Audi Q7.