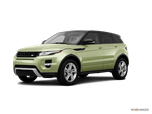 Brand-new last year, for 2013 the Evoque line gets a new, more affordable base model, the Pure. Also there's a new Park Assist option that manages the steering when parallel parking, and the available navigation system now incorporates Land Rover's Off-Road Navigation.
About Land Rover Range Rover Evoque
Land Rover's rugged-yet-luxurious Range Rover line has long appealed to the well-heeled and adventurous elite. But with rising gas prices and ever-more-stringent fuel-economy and environmental standards, even the mighty Range Rover needs to adapt. Enter the 2012 Range Rover Evoque, a comparatively compact Range Rover crossover SUV that comes in five-door and coupe flavors, offering up a striking shape nearly identical to the Land Rover LRX concept car on which it is based. With an efficient 240-horsepower four-cylinder engine, improved aerodynamics and a smaller, lightweight body, the all-wheel-drive Evoque reinterprets the classic Range Rover formula with a renewed sense of style and a newfound environmental conscience.