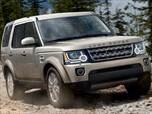 The 2014 Land Rover LR4 receives important updates this year. Foremost is a new drivetrain, including a new 3.0-liter V6 engine and 8-speed automatic transmission. The 2014 LR4 also gets a new front bumper and headlights, and Meridian replaces harman/kardon as the audio system of choice.
About Land Rover LR4
To meet ever-tightening fuel economy standards, the 2014 Land Rover LR4 SUV replaces last year's V8 with a new supercharged 3.0-liter V6 and a new 8-speed automatic. The change improved fuel economy by two mpg in the EPA's city, highway, and combined scale, but unfortunately it's still unimpressive. The good news is that the 2014 LR4 retains all the off-road capability it was born with, including available low-range gearing and 4-corner air suspension. It lets you drive your big SUV places soft-roaders like the Audi Q7, Infiniti QX60, and BMW X5 would fear to tread. On the other hand, if blazing trails isn't your thing, maybe one of those would be a better pick thanks to the LR4's still-bad fuel economy.