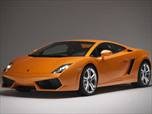 Lamborghini is marking time until a new car replaces the Gallardo next year. The LP560-4 models get a new array of vents and dividers in front, an enlarged air outlet in back and new wheels. Two LP570-4 Edizione Tecnica models are added, the Superleggera coupe and Spyder Performante.
About Lamborghini Gallardo
By far the most popular Lamborghini ever (nearly 13,000 made so far), the angular, mid-engine Gallardo is dramatic yet civilized: an Italian exotic you can truly drive to work during the week and at the track on weekends. Credit the influence of Audi, which acquired Lamborghini in 1998, for the impressive refinement. Decoding the Gallardo engine nomenclature, the LP550-2 gets a 542-horsepower V10, the LP560-4 upgrades tuning to 552 horsepower, and the LP570-4 tops out with 562 horsepower. All three are available in coupe or Spyder (convertible) versions. As the designations suggest, the LP550-2 has rear-drive but the stronger engines come only with all-wheel drive (AWD). The bodywork looks angry, the V10's song is wickedly enchanting, and the driving experience is enthusiastically Italian.