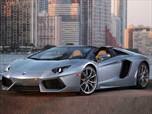 To celebrate its 50th anniversary, you can get a limited-edition 2014 Lamborghini Aventador LP 720-4 50th Anniversario edition. How limited? Only 200 are made, they cost north of $500,000, and yes, they're already sold out.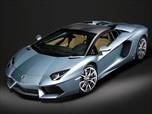 The Aventador for 2013 gains start/stop technology and cylinder deactivation for improved fuel economy. The springs and shocks are stiffened this year, and a new roadster joins the coupe.

About Lamborghini Aventador
Since its introduction in 2012, the Lamborghini Aventador LP 700-4 has been one of the world's most desirable high-performance driving machines. The thrilling design is matched only by the car's otherworldly performance. Starting with a 691-horsepower V12 engine and all-wheel drive, Lamborghini wraps the engine and passenger compartment in aluminum and carbon-fiber body work that's straight out of a science fiction fantasy. But it's not just for show, as the huge door vents, and numerous slots and slats all work to keep the car's engine fed with air, and to keep it on the ground as it rockets from a standstill to 60 mph in less than three seconds, all on its way to an astonishing 217 mph top speed. It's $400,000 that's very well spent.