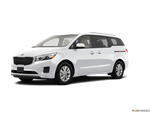 All-new truly applies to the 2015 Kia Sedona, which shares almost nothing with the previous edition: Its chassis has been redesigned and strengthened, and its wheelbase and overall length have been stretched. The minivan's interior and exterior have been restyled, and a more powerful 3.3-liter V6 engine replaces the previous 3.5-liter.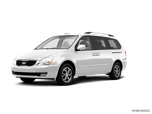 The 2014 Kia Sedona minivan receives a minor front end freshening, new wheels and standard fog lights on both trims. Inside, a new storage console for smart tablets is standard.
About Kia Sedona
The 2015 Kia Sedona shuns the minivan label. Officially, it's a "multipurpose vehicle." That's accurate, though it embraces a range of vehicles well beyond those with sliding side doors. To fortify the SUV illusion, the new Sedona has more of a bull nose, a flatter hood, and vertical sides. While this isn't likely to fool anyone, it does help the Sedona stand out versus stylish competitors like the Honda Odyssey, Nissan Quest, and Toyota Sienna. Call it what you will, the redesigned Sedona is improved in the areas that count: more room, more power, more safety features, more refinement, more comfort, more choices, and less interior noise. That, plus a strong value story, gives the Sedona a stronger presence in a thinly populated minivan field.