The 2014 Kia Sedona minivan receives a minor front end freshening, new wheels and standard fog lights on both trims. Inside, a new storage console for smart tablets is standard.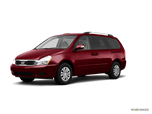 The 2012 Kia Sedona minivan remains largely unchanged from last year, with the exception of an available rear-seat DVD entertainment system on the LX trim (previously available only on the EX).
About Kia Sedona
The Sedona minivan is a consumer's best friend and a nightmare for rival manufacturers. In just a few short years, Kia has transformed the Sedona from a middle-of-the-road minivan into a first-rate transport. With class-leading horsepower and safety ratings, seating for eight and a 10-year/100,000-mile powertrain warranty, it's hard to argue with the Sedona. Toss in a sticker price thousands less than a comparably-equipped Honda Odyssey or Toyota Sienna and the Sedona looks downright unbeatable. Of course, the Sedona's resale figures can't compare with its Japanese rivals, but if the initial bottom line is more important than what you might get come trade-in time, the Sedona should be at the top of your shopping list.