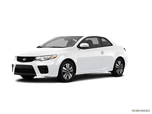 For 2013, the Kia Forte receives only minor changes. There are new 16-inch wheels for the Koup and 5-door, while power-folding side mirrors are added to the EX and SX trims. All models receive a low washer-fluid warning light, and LED daytime running lights are offered on the EX and made standard on the SX.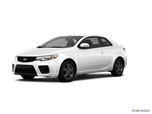 The 2012 Kia Forte sedan and hatchback see a 1-mpg improvement in city fuel economy and 2-mpg increase in their highway figures, boosting overall mileage to 26 city/36 highway when equipped with the 2.0-liter engine and 6-speed automatic transmission.
About Kia Forte
Kia has been working hard to bring its small cars up to the standards set by Honda, Nissan and Toyota. Unfortunately for the Big Three of Japan, the Korean car maker has already met or exceeded many of its own goals and shows now sign of resting. Need proof? Behold the 2011 Kia Forte. With styling that is far more daring than the new Honda Civic, Toyota Corolla or Nissan Sentra, the Forte certainly has plenty of youth appeal. And, with three variants (sedan, five-door and a stunning little coupe) the 2011 Kia Forte has all the bases covered. While not as advanced as the Ford Focus, the Kia Forte is also not as pricey, with a fully-loaded sedan topping out around $25,000. And, while the Forte's handling still has some ground to cover to play on the same field as the Mazda3 or Volkswagen Jetta, most owners will find the balance of ride, acceleration and handling more than sufficient. Improved build quality, better resale and elevated consumer perception have also helped Kia move into the mainstream, but in the case of the Forte, its low price, generous content level and impressive powertrain warranty are still the best reasons to buy this car.