2014 Kia Forte Expert Review
By Jason Allan
KBB Expert Rating: 8.1
Whether you've already come around on Kia or you're still not convinced, test driving the all-new 2014 Kia Forte is guaranteed to make your decision about a compact sedan, hatchback or coupe more difficult. It's as sporty and substantial inside as it is outside, the available features list is luxury-like in quantity and quality, and save for some foundational shortcomings relative to competitors like the Honda Civic, the overall level of refinement is on par with anything in the class. The 2014 Kia Forte is definitely worth a look, and for buyers in search of features and technology, it's going to be a long look.
You'll Like This Car If...
The 2014 Kia Forte's key strengths include its good looks, great tech and a generous warranty.
You May Not Like This Car If...
The 2014 Kia Forte sedan, Forte5 hatchback, and Forte Koup aren't as fun to drive as they look, and they're not quite the bargain their deceptive starting prices might suggest.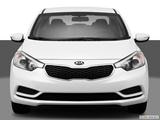 What's New for 2014
The Kia Forte has been totally redesigned for 2014.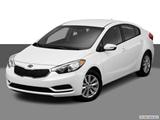 Driving Impressions If you're drawn to the 2014 Kia Forte by the implied promise of its sporty look and available 173-horsepower engine, prepare yourself for a disappointing test drive. While it's quick...
... enough and handles just fine, the Forte falls far short of the
Ford Focus
, Mazda3 and
Volkswagen Jetta
in driving feel, which is a big part of fun-to-drive. But as long as you're among the 99% of buyers more interested in transportation than track time, you won't find anything not to like about the way the Forte drives, rides or handles. On the other hand, the 2-door Forte Koup and turbocharged Forte5 hatchback still have driving dynamics several steps behind cars like the Honda Civic Si or
Volkswagen GTI
, something Kia must fix if it hopes to be a player in the sporty compact segment. Still, the Kia Forte is a fun car, but more because of its looks, features and tech than its driving dynamics.
UVO ESERVICES
In addition to a bunch of other cool infotainment capabilities – many of them voice-activated – Kia's next-gen UVO system leverages your Bluetooth-connected smartphone to automatically call 911 in the event of an airbag deployment, and lets you send a navigation destination from your computer to the car.

FLEXSTEER
As part of its new electric power steering system, the 2014 Kia Forte EX includes a FlexSteer feature that lets the driver select between Comfort, Normal and Sport steering modes. Comfort mode feels the least artificial, making small corrections easier and mitigating some of the compromise of efficiency-enhancing electric steering.
Interior
The interior of the 2014 Kia Forte is sporty and straightforward, with a heavy helping of tech and just a whiff of whimsy thanks in large part to vertical ripples in the passenger-side dash. It's all very well done. The back seat is average in size for the category, but the Forte does boast the uncommon option of heated rear seats, and even a heated steering wheel. The trunk is among the category's roomiest, measuring almost 15 cubic feet.
Exterior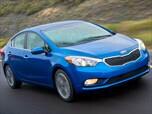 On one hand, the Kia Forte isn't as flashy as its Hyundai Elantra corporate cousin. On the other hand, the Forte's look will probably age better because of it. The 2-door Koup and hatchback Forte5 bring a bit more style to the lineup without undermining the conservative aesthetic. Here, Kia's healthy addiction to category-first features manifests itself in power-folding exterior mirrors, puddle lamps and illuminated door-handle pockets, a collection of niceties not offered on most luxury cars in 2013.
Standard Equipment
Technically, the 2014 Kia Forte starts at $16,700 with destination, including Bluetooth and USB connectivity, air conditioning, and a split-folding rear seat. But it also has small steel wheels, a manual transmission and a host of feature deficiencies. Add $1,500 for an automatic transmission, then another $900 for the Popular Package – alloy wheels, remote keyless entry, etc. – and you've got yourself a respectable compact car, but for $19,100. The $19,400 Forte Koup and $20,500 Forte5 both start a trim-level higher, and include a lot of what's optional on the sedan. A full complement of active and passive safety features are standard on every Forte.
Optional Equipment
A fully loaded 2014 Kia Forte can surpass $25,000, but with an impressive set of equipment that includes common touches like leather seats, moonroof, keyless entry and push-button start, plus unexpected touches like a heated steering wheel, ventilated driver's seat and heated rear seats. The Google-powered UVO eServices infotainment system is also among the most comprehensive systems in the segment. Moving up to the turbocharged engine adds $2,000 to the Forte Koup, or $1,200 in the Forte5.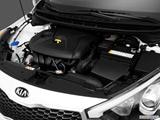 The front-wheel-drive Forte is available with three different engines, depending on body style, including one of the most powerful engines in the segment. Each is matched with the same 6-speed automatic transmission, while a 6-speed manual is available as well, again, depending on body style. The Forte's power advantage requires a small compromise in fuel economy, with the Forte's numbers trailing many of today's newer compact cars.

1.8-liter 4-cylinder (Kia Forte Sedan LX)
148 horsepower @ 6,500 rpm
131 lb-ft of torque @ 4,700 rpm
EPA city/highway fuel economy: 25/37 mpg (manual), 25/36 mpg (automatic)

2.0-liter 4-cylinder (Kia Forte Sedan EX, Koup EX, Forte5 EX)
173 horsepower @ 6,500 rpm
154 lb-ft of torque @ 4,700 rpm
EPA city/highway fuel economy: 24/33 mpg (manual, Koup only), 24/36 mpg (automatic)

1.6-liter turbocharged 4-cylinder (Kia Forte Koup SX, Forte5 SX)
201 horsepower @ 6,000 rpm
195 lb-ft of torque @ 1,750-4,500 rpm
EPA city/highway fuel economy: 22/29 mpg (manual), 22/30 mpg (automatic)
Today's Kias don't offer the same price advantage they used to, but better quality, more features and improved resale values make them a much smarter buy. Yes, the Forte's $16,700 starting price is one of the lowest in the category, but Kia won't make many of those bare-bones vehicles and you don't want one anyway. You might still pay less for a Forte than a Civic, but the apples-to-apples difference will likely be hundreds of dollars, not thousands. The $19,400 base price for the Forte Koup, or $20,500 base price for the Forte5 hatchback doesn't include the turbocharged engine, which is a primary reason to get either car. Regardless, don't expect to pay much less for a Forte, but you'll be getting more features. And if you plan on keeping your next new car longer than the three years or 36,000 miles that most competitors cover, Kia's impressive 5-year/60,000-mile bumper-to-bumper warranty is a real advantage.
To compare current market prices, check out KBB.com's car classifieds to view the new and used Kia Forte vehicles for sale near you.