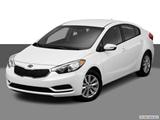 Driving Impressions If you're drawn to the 2014 Kia Forte by the implied promise of its sporty look and available 173-horsepower engine, prepare yourself for a disappointing test drive. While it's quick...
enough and handles just fine, the Forte falls far short of the
Ford Focus
, Mazda3 and
Volkswagen Jetta
in driving feel, which is a big part of fun-to-drive. But as long as you're among the 99% of buyers more interested in transportation than track time, you won't find anything not to like about the way the Forte drives, rides or handles. The Kia Forte is a fun car, but more because of its looks, features and tech than its driving dynamics.