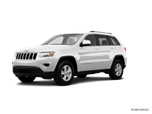 Noteworthy revisions for the 2014 Jeep Grand Cherokee include a new fuel-efficient EcoDiesel engine, a standard 8-speed automatic transmission for every powertrain, freshened exterior styling, and next-generation infotainment. Also new to the roster is a premium Summit model grade, refreshed interior colors, and a Forward Collision Warning system that alerts the driver to potential collisions.

About Jeep Grand Cherokee
Just a few years following its triumphant return to glory in the U.S. marketplace, the Jeep Grand Cherokee goes under the knife once again in an effort to maintain a competitive standing among segment standouts like the Toyota 4Runner, Nissan Pathfinder, and Volkswagen Touareg. Given that its framework is shared in large part with the latest Mercedes-Benz M-Class, the Grand Cherokee looks and feels remarkably upscale for a mainstream SUV. And unlike many of its domesticated challengers, Jeep engineers managed to improve the on-road manners of the 4th-generation Grand Cherokee without sacrificing off-road capability. At the top of the Grand Cherokee ladder is the equally-new Grand Cherokee SRT, which delivers a level of performance rivaling that of the road-burning BMW X5 M and Porsche Cayenne GTS for thousands less.