There's little new for the 2015 Jaguar XK lineup. The limited edition XKR-S GT is gone, but otherwise there's nothing new, since the car is on its last model year in its current iteration. Keep your eyes open for an all-new XK in the next year or so.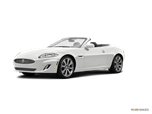 For 2014, Jaguar has unveiled a very-limited-production (only 25 cars in the U.S and 5 in Canada) XKR-S GT. This track-ready and street-legal machine is quicker than any other cat in the XK pride, and its $175K price tag ensures its exclusivity.
About Jaguar XK Series
Making a beautiful car is one thing. Making a powerful car is another. But combining the two and creating an icon? That's the rare magic Jaguar crafted with its XK sport coupe and convertible.

Both elegant and menacing, the 2015 Jaguar XK, XKR and XKR-S blend clean, simple and powerful design with the horsepower and performance to keep the promise. Packed with luxury and technology, there's no doubt you're behind the wheel of a car that competes in the same rarified air as others like the BMW 640i, or even the Porsche 911. If it strikes a chord with you, this is your last chance to act, as Jaguar will be discontinuing the XK after the current model year to make room for an all-new XK.