KBB Editors' Overview
By KBB.com Editors - Updated Date: 6/2/2008
---
This is not your father's Jag - or even last year's XK, for that matter. Jaguar, like Gucci and Burberry, is repackaging and transforming its image to appeal to a more hip demographic audience. The target customers for the XK are those folks who, by the time they have reached their 40s or 50s, are pulling down in the region of a quarter-million a year. The previous generation XK, which went out of production in June of 2005, was Jaguar's all-time best-selling sports model. But Jaguar is now raising the ante, with its all-new 2007 XK 2+2 sports car and convertible, built to compete in the large premium sports car sector.
You'll Like This Car If...
If you want a car with performance, style, room in the back seat and extra space in the trunk, you'll appreciate the XK Convertible. Along with all those luxury features, the XK has huge star power and draws envious stares.
You May Not Like This Car If...
If you want a macho convertible sports car, the XK might not appeal to you, as it has a somewhat lighter, easier feel to the driving experience.
What's New for 2007
Just about everything - including the aluminum chassis, transmission and interior - is new for the 2007 XK Convertible. The XK is the most technologically advanced Jaguar to date, with features that include a keyless entry and start and the latest-generation 4.2-liter AJ-V8 engine.
Driving It
Driving Impressions
The XK Convertible feels cat-like and quick, and not at all heavy or ponderous. It accelerates from zero to 60 miles per hour in 5.9 seconds, and can reach a top speed of 155 miles per hour, thus offering both a lot of performance and admirable fuel economy, with EPA ratings of 18 mpg in the city and 26 mpg on the highway. There is a choice of automatic, sport automatic or paddle shifting - in the sequential manual mode. The paddles are located to the sides of the steering wheel in good relationships to the hands. Bottom line - we think the paddle shifter is too much fuss for a car that functions beautifully in its automatic mode. The suspension is luxurious even on uneven road surfaces. The new XK steers and handles with nimble accuracy, stops with a sure, confident pedal feel, even during heavier braking, and offers a drive that is amazingly quiet - even with the top down.
Favorite Features
Convertible Top
The convertible top slips under a smooth aluminum cover in less than 18 seconds.

Luxurious Cabin
The spacious, well-designed cabin has the exquisite touches for which Jaguar is known.
Vehicle Details
Interior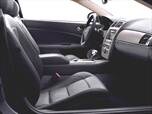 Unlike previous years, when Jaguars made you feel as if you had to be shoe-horned into the cockpit, the XK cabin is more spacious, with longer seat travel for taller people. The interior is appointed with stitched leather seats and trimmed with burl walnut, aluminum or a fabulous-looking light poplar. The environment is intuitive - there's an ergonomic logic to the instrument panel and controls that includes pushbutton keyless entry, dual-zone climate controls and a user-friendly seven-inch touch screen with a navigation system. The white-lit speedometer and tachometer dials stand out against a green backlight.
Exterior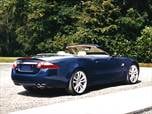 On the outside, the XK is seamlessly elegant, with a longer wheelbase and shorter overhangs. The extended hood is complimented with a steeply raked windshield and rear window and standard 18-inch alloy wheels. The grille with Bi-Xenon headlamps is reminiscent of the E-type, and the triple-layer convertible top stows discreetly below an aluminum cover in less than 18 seconds. Lighter than its predecessor, by virtue of the aluminum unit-body construction, the convertible weighs 3,759 pounds and drives with a light, pleasant feel.
Notable Standard Equipment
The XK Convertible's list of luxury standards includes a V8 4.2-liter engine with keyless remote engine start, sequential-shift six-speed automatic transmission with steering wheel-mounted paddles, rear parking sensor, traction control and stability control. Safety features include four-wheel anti-lock brakes and driver and passenger front- and side-impact airbags. The cabin has standard burl walnut interior trim, heated leather seats, heated power mirrors, a seven-inch center console touch screen with navigation, Alpine speakers and six-disc CD/MP3 and Bluetooth wireless connectivity.
Notable Optional Equipment
Options include soft grain leather seat and door trim, heated steering wheel, Carelia aluminum alloy wheels or Senta chrome aluminum alloy wheels, adaptive headlamps, adaptive cruise control, SIRIUS Satellite Radio with surround sound and more choices of paint colors.
Under the Hood
The Jaguar XK Convertible has a 4.2-liter AJ-V8 engine with 300 horsepower at 6000 rpm and 310 pound-feet of torque at 4100 rpm. The six-speed sequential-shift automatic has a fully-automatic mode, a sport automatic selection for more enthusiastic driving and a sequential manual mode for the true performance experience.

4.2-liter V8
300 horsepower @ 6000 rpm
310 lb.-ft. of torque @ 4100 rpm
EPA city/highway fuel economy: 18/26
Pricing Notes
The XK Convertible equipped with an automatic transmission and 4.2-liter V8 engine has a Manufacturer's Suggested Retail Price (MSRP) of $81,500. By comparison, the 2006 BMW 650i with a V8 4.8-liter engine and six-speed manual transmission adds knee airbags as safety equipment and is priced at $81,195. The 2006 Lexus SC 430 V8 with six-speed automatic transmission costs significantly less at $66,050. The Fair Purchase Price shows that consumers are currently buying their XK Convertibles at or just below MSRP. Be sure to check the Fair Purchase Price to see what consumers are currently buying XKs for in your area. In terms of resale value, we predict that the XK convertible will perform modestly over time. The XK should retain 33 percent of its original value over a 60-month period, which is much lower than both the BMW 650i convertible and the Lexus SC 430 convertible.