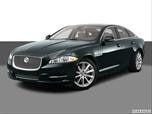 The big news for 2013 is the addition of a more fuel-efficient V6 engine at the base of the line and the option of an advanced AWD system to go with it. There are also new audio systems from Meridian.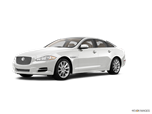 For 2012, Supersport trims receive various content revisions, including a standard rear-seat DVD entertainment system in place of standard adaptive cruise control as well as a new reclining rear seat with a nifty massaging feature for the XJL Supersport.
About Jaguar XJ Series
Jaguar's largest and most luxurious sedan, the XJ, is a rolling showcase touting the company's latest achievements in engineering, technology and luxury. Wrapped in a lightweight all-aluminum body, the XJ is surprisingly agile for its size, yet remarkably solid. Offered in a variety of trims, including two stretched wheelbase versions and the legendary performance cat, the XJR, the XJ is without question the finest Jaguar product to date. Faced with radically new designs emerging from Audi, BMW and Lexus, Jaguar's strategy to stick with its traditional styling may not have been a wise decision. Jaguar sales are not as robust as hoped, meaning it may be possible to wrangle a good deal on a new XJ.