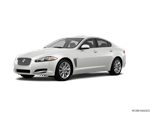 This is a big year for the Jaguar XF. For 2013 the engine lineup, formerly all-V8, adds a turbocharged inline-4 and supercharged V6 to push down both fuel consumption and the cost of entry. An AWD system is now offered (V6 only) for drivers in the Snow Belt.

The Jaguar XF receives several significant upgrades for the 2012 model year. Highlights include a remodeled front end with a striking new headlight design, revised LED taillights, a trio of updated audio systems and a series of prominent interior upgrades.
About Jaguar XF
Sharing engineering features with the S-Type, the all-new 2009 Jaguar XF is the combination of a luxury sedan and a sporty coupe not just in performance numbers or impressive interior space, but in overall styling as well. With its wide stance, sweeping roof line, muscular fender well arches and additional doors, the XF looks like a more evolved XKR. Rivaling the BMW 5 Series, Mercedes E-Class and the Audi A6, the XF is wider, resulting in more interior and cargo room. Straying away from the traditional, more staid look of Jaguar sedans, the sporty XF will have younger buyers thinking differently about the Jaguar brand.