2014 Jaguar XF Expert Review
By KBB.com Editors
KBB Expert Rating: 7.1
Jaguar's answer to established midsize luxury sedans like the BMW 5 Series and Mercedes-Benz E-Class, the XF is the British automaker's best-seller but also among the segment's rarest entries. Stiff competition and the lingering effects of past quality woes work against Jaguar's sales numbers, but fewer sales is a good thing for buyers who put a premium on exclusivity. Jaguar XF highlights include its distinctive design, plush interior and, thanks to fewer "driver assistance" technologies than many of its competitors, more organic driving feel. The Jaguar XF isn't the obvious choice for everyone, and that's just what makes it the obvious choice for some.
You'll Like This Car If...
Whether you're a trendsetter, trailblazer or simply an admirer of Britannic automotive design, the XF is a unique alternative to common midsize luxury sedans.
You May Not Like This Car If...
If you're a hard-nosed value-conscious luxury shopper, you're probably aware that the cache of the Jaguar name does not support the cars' residual values over time. And you're probably reading a Lexus review right now, anyway.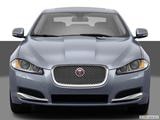 What's New for 2014
It was actually a late addition to the 2013 model year lineup, but the newest member of the XF family is the range-topping, asphalt-melting XFR-S. With its 550-horsepower supercharged V8 engine, the XFR-S can rocket to 60 mph in 4.4 seconds on its way to a top speed of 174 mph, according to Jaguar. A cool $100,000 will buy you an XFR-S and a ticket to Disneyland, but hurry because Jaguar only plans on selling 100 of them.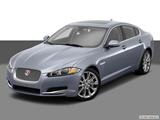 Driving Impressions After a few decades of focusing mostly on soft-sided luxury, Jaguar has recently rediscovered its performance heritage. The XF is a product of that reinvention, and it counts among the...
... more fun to drive cars in the segment. The XF in any iteration is taut, responsive, balanced and gives good feedback through the steering and brakes. And in the top-performing XFR-S, Jaguar has a proper high-performance sport sedan worth mentioning in the same breath as the
BMW M5
and Mercedes-Benz E63 AMG. The running character obviously depends on engine choice, now that there are so many in the XF line, but the supercharged V6 represents an appealing balance of power, smoothness and efficiency. The 8-speed automatic transmission that accompanies every XF engine works seamlessly, thanks to all those close-spaced ratios and adaptive shift programming, but there are handy paddle shifters for do-it-yourselfers. The AWD system favors the rear wheels in its torque delivery to retain a lively rear-drive feel.
JAGUARDRIVE SELECTOR
From the pages of science fiction to 21st-century roadways, the JaguarDrive Selector is one of the most innovative interpretations of a universal automotive feature. A beautifully crafted, metallic wheel automatically rises into the driver's hand once the Start/Stop button is pressed for effortless control of various transmission modes.

MERIDIAN AUDIO SYSTEM
Audiophiles will love the top-line 7.1 surround-sound audio system, standard on the XFR and optional on other XFs. The 825-watt, 17-speaker setup accommodates all the usual signal sources and includes HD and SiriusXM satellite radio.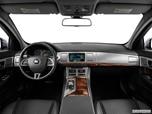 Interior
The 2014 Jaguar XF provides an airy, upscale sedan cabin, where rich leather covers all five seats and high-quality materials are arranged with remarkable precision. The ergonomically designed front seats deliver ample support for occupants of all sizes, though 6-footers will find rear-seat headroom slightly restricted by the aggressive curvature of the roof. Instrumentation is sharp and legible, but operating the touch-screen climate-control functions can be cumbersome. The top-line Meridian audio system, with its 825 watts and 17 speakers, is simply awesome.
Exterior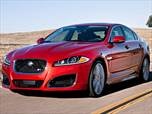 The 2014 Jaguar XF has an aggressive stance, sleek and aerodynamic body shape and sweeping coupe-like roofline. Detailing is tastefully restrained and integrated, from the headlights' LED strings to the front fender vents and the chrome rear-hatch bar that magically fades into the backup lights. A host of cosmetic and functional exterior upgrades include a black trim package, front and rear spoilers, plus 19- or 20-inch wheels.
Standard Equipment
The 2014 Jaguar XF offers a generous lineup of standard equipment that includes leather seats, heated front seats, keyless entry and start, moonroof, backup sensors and a 7-inch touch screen. Safety features include a full complement of airbags and the typical battery of electronic driving aids.
Optional Equipment
In addition to a long list of aesthetic upgrades, the XF options sheet includes a navigation system, high-end audio, cooled front seats, premium leather and blind-spot monitoring.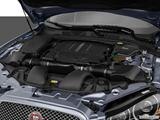 The Jaguar XF engine lineup includes a 2.0-liter turbocharged 4-cylinder based on the engine in Ford's Explorer EcoBoost, plus a 3.0-liter supercharged V6. The latter can be ordered with rear-wheel drive (RWD) or Jaguar's AWD system. The other three available engines are actually different versions of the same 5.0-liter V8 engine, with 470, 510 and 550 horsepower. All engines are mated to a responsive 8-speed automatic transmission.

2.0-liter turbocharged inline-4 (XF 2.0T)
240 horsepower @ 5,500 rpm
251 lb-ft of torque @ 2,000-4,000 rpm
EPA city/highway fuel economy: 19/29 mpg

3.0-liter supercharged V6 (XF 3.0)
340 horsepower @ 6,500 rpm
332 lb-ft of torque @ 3,500-5,000 rpm
EPA city/highway fuel economy: 18/28 mpg (RWD), 16/25 mpg (AWD)

5.0-liter supercharged V8 (XF Supercharged)
470 horsepower @ 6,000-6,500 rpm
424 lb-ft of torque @ 2,500-5,500 rpm
EPA city/highway fuel economy: 15/23 mpg

5.0-liter supercharged V8 (XFR)
510 horsepower @ 6,000-6,500 rpm
461 lb-ft of torque @ 2,500-5,500 rpm
EPA city/highway fuel economy: 15/23 mpg

5.0-liter supercharged V8 (XFR-S)
550 horsepower @ 6,500 rpm
502 lb-ft of torque @ 2,500-5,500 rpm
EPA city/highway fuel economy: 15/23 mpg
The 2014 Jaguar XF starts at a Manufacturer's Suggested Retail Price (MSRP) of right about $48,000 and stretches into the 6-figure side of the tracks for a loaded XFR-S. The most popular model is the V6-powered XF 3.0, and the average transaction price is roughly $52,000. Sticker prices are essentially in line with its BMW, Mercedes-Benz and Audi competitors, but buyers should beware that lagging resale values diminish the Jaguar's overall value proposition. As always, be sure to build and price your own 2014 Jaguar XF right here at KBB.com to unlock its Fair Purchase Price, 5-Year Cost to Own and more.
To compare current market prices, check out KBB.com's car classifieds to view the new and used Jaguar XF vehicles for sale near you.