2008 Jaguar S-Type Review
By KBB.com Editors
The days of the floating luxury liner on four wheels have long since gone, yet there are still a number of consumers that prefer a softer ride to one that feels like it's attached to rails. In the European premium luxury market, most cars favor the sport sedan formula, but not the 2008 Jaguar S-Type. Not that the stylishly distinctive Jaguar can't hold its own in the handling arena, it just produces a more sedate ride. Driving devotees who require more will want to check out our review of the performance-oriented S-Type R. Where its competitors boast of performance first, the S-Type touts a luxurious interior, comfortable ride and more traditional instrumentation, free of an overabundance of technological gadgetry. This is the last production year for the S-Type. Its replacement, an all-new, sportier model dubbed the XF, debuts next March.
You'll Like This Car If...
You'll like this car if you are looking for a stylish and comfortable luxury sedan that puts the emphasis on smooth, solid comfort rather than sporting performance. Image-conscious buyers will appreciate owning a marque known exclusively for its high-line status, yet at a more affordable price.
You May Not Like This Car If...
If your taste runs toward the ultra-modern, the 2008 Jaguar S-Type's traditionalist design may appear old-fashioned. Driving enthusiasts won't find the S-Type's handling comparable to that of the BMW 5 Series or Infiniti M.
What's Significant About This Car?
The 3.0 and 4.2 models receive the S-Type R's ZF six-speed automatic transmission, as well as its sculpted front bumper. The standard wheels are now 18 inches, with 19-inchers optional on both trim levels. The last 750 S-Types will feature unique Satin Mahogany veneers, leather steering wheel and leather and chrome shifter.
Driving Impressions We drove the S-Type 4.2 V8 and found it a pleasant experience. The car accelerates at a brisk pace with almost no vibration or rough treatment from the chassis and...
the shifting happens in smooth, effortless order, with no lunges or jerks. The suspension is soft enough to feel luxurious, but still lets through an adequate level of road feel. Those more accustomed to BMW-like mannerisms may not like the refined Jaguar approach, but the Jaguar engineers had a particular goal in mind. Steering and handling are tight and secure, the leather-wrapped wheel feels great in your hands and the smooth Jaguar manages turns with calm assurance and control.
ZF Six-Speed Transmission
One of the best in the industry, the ZF six-speed's shifts are practically undetectable and the transmission's computer brain seems to always know exactly when to shift and when to hold.

Electric Rear-Window Sunblind
With the press of a button, a sunshade lowers to block direct sunlight.
2008 Jaguar S-Type Details
Interior
The standard wood-lined interior is designed for luxury with a stylish leather-bolstered center console housing the navigation system, radio and climate controls. We like the simplicity of the S-Type controls, which don't require tremendous time or concentration to operate while driving. The 2008 Jaguar S-Type's handsome leather seats feature contrasting piping and feel comfortable enough to serve as furniture in your family room. The front seats are nicely formed and give just enough side support to hold occupants in place without squeezing them. The S-Type's rear seat space can become quite snug, especially if the front-seat occupants have their seats adjusted for maximum legroom.
Exterior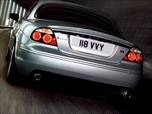 Distinctive styling is Jaguar's strength, and this holds true for the S-Type. It is athletic, lean and muscular and, of course, it sports the Jaguar "leaper" hood ornament. This year's front end update gives the aging S-Type a bit sportier look, although the rest of the car still says "luxury" first and foremost. An assortment of alloy wheels completes the exterior luxury look and appeal.
Standard Equipment
The S-Type 3.0 includes a six-speed automatic transmission, 18-inch alloy wheels, four-wheel anti-lock disc brakes (ABS), Dynamic Stability Control (DSC), front seat side-impact airbags, front and rear side-curtain airbags, heated front seats, automatic headlamps, heated side mirrors, power tilt/telescopic steering wheel, 16-way power driver's seat with memory and power lumbar support, 12-way power passenger's seat, rain-sensing wipers, Reverse Park Control and steering wheel-mounted cruise, audio and dual climate controls. The 4.2 adds a powerful V8 engine, navigation, Front Park Control, Bluetooth, xenon headlamps, 320-watt Alpine audio and a power rear sunshade.
Optional Equipment
Options include a DVD navigation system, Adaptive Cruise Control, two-tone interior, xenon headlamps, Front Park Control and 19-inch alloy wheels.
The base 3.0-liter V6 is a good engine, but it seems neither powerful nor smooth enough to merit the Jaguar name. We think the 4.2-liter V8 is the best choice for the S-Type, providing plenty of power while delivering almost no noise or vibration into the passenger compartment.

3.0-liter V6
235 horsepower @ 6800 rpm
216 lb.-ft. of torque @ 3000 rpm
EPA city/highway fuel economy: 17/26

4.2-liter V8
300 horsepower @ 6000 rpm
310 lb.-ft. of torque @ 4100 rpm
EPA city/highway fuel economy: 16/24
To compare current market prices, check out KBB.com's car classifieds to view the new and used Jaguar S-Type vehicles for sale near you.