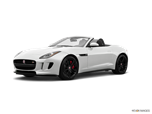 The 2016 Jaguar F-Type V6 gains a 6-speed manual transmission, while all-wheel drive (AWD) is made available on the S and standard on the R Coupe and all-new R Convertible. An electronic-assisted power-steering unit is also new this year, as are a new InControl apps suite and more standard features.
After its introduction as a convertible last year, the 2015 Jaguar F-Type adds a coupe model this year, broadening its 2-seat sports car's appeal to those who want a fixed roof...and more available power.
About Jaguar F-TYPE
After two successful sales years, one might think Jaguar would coast into 2016 enjoying the ride of its brilliant F-Type 2-seat, rear-wheel-drive sports car. But no, it appears the Brits are just getting their second wind. The 2016 Jaguar F-Type expands its model range by offering more models and features, including a manual transmission and all-wheel drive. Giving the Porsche 911, Maserati GranTurismo and Mercedes-Benz SLK AMG a run for their money (and considerably less money, at that), the new F-Type has caught the eye of everyone from the well-off to everyday dreamers. And with an available 550-horsepower supercharged V8 and a 0-60 time of just 3.9 seconds, the F-Type coupe and convertible can deliver on every promise made by the car's aggressive good looks.