After being renamed last year (the QX60 started life as the Infiniti JX35) and introducing a hybrid model, there are only minimal changes for the 2015 QX60. They include a Wheat interior color, revised transmission and new exterior color choices.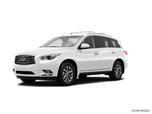 There are two major changes for 2014. First, the name QX60 is new. In Infiniti's re-aligning of the product line's alpha-numeric designations, this is last year's JX35. More important, the QX60 line adds a hybrid, which promises impressive fuel efficiency to go with its already-exceptional capabilities.
About Infiniti QX60
The 2015 Infiniti QX60 is a 7-passenger, 3-row crossover SUV that boasts impressive levels of standard equipment, easy and comfortable driving manners, and innovative technology that includes a system that applies the brakes to prevent a collision when backing up. The QX60 is available in front- or all-wheel drive and with a standard V6 engine or a hybrid powertrain that nets better fuel economy. With the ability to tow up to 5,000 pounds, Infiniti's 3-row luxury SUV is versatile, while its roughly $43,000 starting price makes it a tempting and capable competitor to the Acura MDX and Audi Q7.