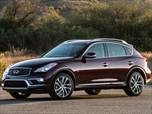 The Infiniti QX50 luxury-crossover SUV is significantly revamped for 2016. It's grown in length by 4.5 inches, and that has boosted rear legroom by nearly that much while also granting more cargo room. Exterior changes include new front and rear fascias, while ground clearance has been increased slightly.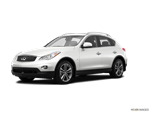 Fresh from its new name change in 2014 (before which it was known as the EX), Infiniti's QX50 luxury-crossover SUV sails into 2015 with no major changes.
About Infiniti QX50
Without resorting to a Rodney Dangerfield shtick, let's just say the Infiniti QX50 deserves more respect. With its significant revamp for 2016, this small-luxury crossover SUV should finally get it. Upon debuting in 2008 as the Infiniti EX, it was among the first compact-luxury crossover SUVs, but instead of riding a wave it helped create, the Infiniti was overshadowed by rivals like the BMW X3, Mercedes-Benz GLK and Audi Q5. Despite having a standard V6 engine and a slew of creature comforts, the model was hampered by limited room in the rear seats and cargo area. The larger, more sophisticated 2016 Infiniti QX50 rights those wrongs while retaining one of the best value propositions in its class.