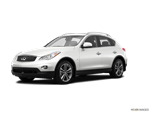 Fresh from its new name change in 2014 (before which it was known as the EX), Infiniti's QX50 luxury-crossover SUV sails into 2015 with no major changes.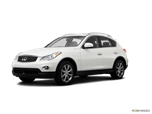 Infiniti is re-naming its product line and the 2014 QX50 is the same vehicle, with a different title, as the 2013 EX37. Other than the new name, there has been no change of any consequence to last year's EX37.
About Infiniti QX50
Infiniti's smallest luxury SUV, the 2015 QX50, may be getting on in years, but it certainly doesn't look it. The shapely skin is still alluring and the QX50's interior remains one of our favorites, ornate and detailed with rich colors and loads of technological toys. The QX50 is also remarkably agile, although its ride can be a bit rough over uneven surfaces (blame the big wheel/tire combo). Infiniti provides a powerful 325-horsepower V6 as the QX50's sole powerplant. This engine delivers good performance, but only average fuel economy, a sharp contrast to the more fuel-efficient – yet less powerful – turbocharged 4-cylinder engines found in the Audi Q5, BMW X1 and Acura RDX. Traction-enhancing all-wheel drive (AWD) is available.
View
Infiniti QX50 vehicles for sale
near you.