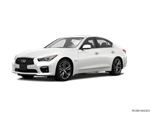 The 2015 Infiniti Q50 is mostly carryover this year, after being introduced last year as an all-new model. The only upgrade of note is a new wheel-and-tire package that adds 19-inch, lightweight RAYS wheels.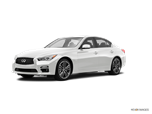 Besides its new name, the Infiniti Q50 sedan offers bold new styling, a powerful hybrid model and a host of new features including dual LCD touch-screen controls, Direct Adaptive Steering, Active Lane Control and Predictive Forward Collision Warning.
About Infiniti Q50
Available in gasoline or gasoline/electric hybrid models, the 2015 Infiniti Q50 aims to seduce BMW 3 Series, Mercedes-Benz C-Class and Audi A4 fans to an Infiniti dealership instead. With striking good looks and the horsepower to back it up, the Infiniti Q50 carries over virtually unchanged, save for a new lightweight wheel package from RAYS. Inside, the comfortable interior offers up a host of advanced electronics, including a fully electronic steering system, with no physical connection between the steering wheel and the front wheels. While some may be turned off by the overly-complex touch-screen controls and electronic driver assists, the Infiniti Q50 offers a starting price well under $40,000. If you want to go old-school, the last-generation G37 is still available as the Infiniti Q40.