2013 Infiniti G Expert Review
By KBB.com Editors
KBB Expert Rating: 7.7
Note this revealing fact: Infiniti offers a genuine, stir-your-own 6-speed manual gearbox on every G37 body style. Performance with refinement is the message here and for 2013 the Infiniti G37 series continues to captivate hearts and minds with stylish good looks, modern technology and exceptional road manners. And, obviously, we aren't the only ones noticing: The G37 family is Infiniti's best-selling line. And it's a diverse line, with sedan, coupe and convertible body styles, rear-wheel drive (RWD) or all-wheel drive (AWD) and two IPL (Infiniti Performance Line) limited-production specials. The G37s get categorized as "near-luxury," but that feels unfair somehow. These cars are all there.

You'll Like This Car If...
If you want an entry-level luxury vehicle that delivers thrilling performance, handsome styling and lots of bang for your buck, the 2013 Infiniti G37 series is worth a close look.

You May Not Like This Car If...
The 2013 Infiniti G37 is a terrific all-around performer, but if we had to nitpick, grievances would include the V6 engine's thirst for fuel and the coupe/convertible's meager rear-seat headroom. Additionally, if you obsess over "communicative steering feel," the BMW 3 Series deserves consideration.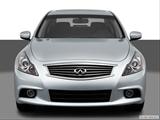 What's New for 2013
The cars themselves get few changes but the lineup is rationalized for 2013. The 4-cylinder G25 Sedan and base model Coupe go away. Both sedan and coupe lines offer the same Journey, AWD (G37x) and Sport 6MT packages. The lusty IPL (Infiniti Performance Line) Coupe gets a Convertible stablemate.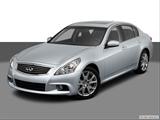 Driving Impressions Every Infiniti G37 pampers its occupants with a comfortable ride, a strong sense of refinement and an array of high-tech goodies. But drive enthusiastically and the sportiest Infiniti satisfies like...
... few competitors can, with accurate steering, crisp brakes and a planted feel. The responsive 3.7-liter V6 pulls strongly, whether mated to the 7-speed automatic or 6-speed manual transmission. Should you find the Sport 6MT package not quite sporty enough, Infiniti offers a higher-performance variant, the IPL (Infiniti Performance Line) on the coupe or convertible bodies, with more power, tauter suspension and larger brakes. All G models benefit from a driver-selectable Vehicle Dynamic Control (VDC) system that allows you to explore pretty far out toward the edge before the system intervenes. If you live in a frosty climate, or prefer a little extra traction driving out of corners, you can opt for the Intelligent All-Wheel Drive system on the coupe or sedan (with automatic transmission only).
7-INCH LCD INFORMATION SCREEN
The 7-inch touch-screen display found in every Infiniti G37 features an intuitive, visually appealing interface and serves as the control center for options such as iPod integration, a hard-drive navigation system with real-time traffic and weather info, backup camera and hard-drive (9.3-gig) and CompactFlash card music access.

INTELLIGENT CRUISE CONTROL
As a G37 option, Infiniti's Intelligent Cruise Control system helps maintain a pre-set distance from the vehicle traveling ahead of you. When that distance becomes shorter than the driver's pre-set parameters, Intelligent Cruise Control will renew the predetermined distance by automatically reducing the vehicle's speed.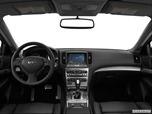 Interior
The 2013 Infiniti G37's interior is exceptional both in design and in the quality of materials used. The luxurious cabin is marked by supple leather-trimmed seating surfaces and elegant, soft-sheen "Silk Obi" aluminum trim. The form-fitting standard driver's seat features 8-way power adjustability, while Sport 6MT models offer increased support and 12-way adjustability (adds bolsters and thigh extensions). Complementing the G37's contemporary architecture is a sharp 7-inch, full-color display. Outward visibility is commendable on the G37 sedan, but the coupe and convertible sacrifice a little for their racy C-pillar contours.
Exterior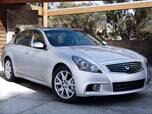 Every iteration of the Infiniti G37 series comes wrapped in a well-tailored suit of sleek sheet metal combined with subtle chrome accents and Infiniti's signature 4-bar grille design. When night falls, standard bi-xenon headlights and LED taillights provide an upscale, modern look. Both the 2013 Infiniti G37 coupe and convertible offer available 19-inch wheels, and both can now be ordered in the exclusive high-performance IPL edition, which adds aggressive front and rear styling, side sills and a rear spoiler.
Standard Equipment
Well-appointed from the start, the Infiniti G37 series includes leather-trimmed seats, leather-wrapped steering wheel, Infiniti's Intelligent Key "keyless" entry system - the key never needs to leave your pocket or purse - with push-button start, a 6-speaker audio system with an auxiliary audio jack for MP3 players, dual-zone automatic climate control, 8-way power driver's seat with a 4-way power passenger's seat and bi-xenon headlights.
Optional Equipment
All G37 models offer an extensive list of optional goodies, most of which are wrapped into Premium, Navigation and Technology packages. There's a Bose premium audio system, sonar proximity warning system for those tricky parking spots, hard-drive navigation system with 3D building graphics and advanced voice recognition, adaptive cruise control to help alleviate the frustration associated with highway traffic, sport-tuned suspension, supremely comfortable 12-way power driver's seat and warm maple accents.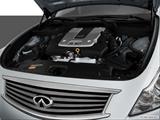 The G37's robust 3.7-liter V6 is the latest iteration of Nissan's renowned VQ35-series all-aluminum DOHC engine. Highly sophisticated variable valve timing and lift beats the normal tuning compromises to benefit power, drivability and efficiency. With either a 7-speed automatic or close-ratio 6-speed manual transmission - offered on all three body styles, to Infiniti's credit - the G37 has EPA fuel economy numbers that are slightly above average for the class, and impressive considering the cars' performance potential. Different engine-management software and exhaust plumbing make the engine fractionally stronger in the coupe than the sedan, and the IPL versions squeeze out a little more still.

3.7-liter V6
328 horsepower @ 7,000 rpm (Sedan)
269 lb-ft of torque @ 5,200 rpm (Sedan)
330 horsepower @ 7,000 rpm (Coupe, Convertible)
270 lb-ft of torque @ 5,200 rpm (Coupe, Convertible)
343 horsepower @ 7,400 rpm (IPL Convertible)
273 lb-ft of torque @ 5,200 rpm (IPL Convertible)
348 horsepower @ 7,400 rpm (IPL Coupe)
276 lb-ft of torque @ 5,200 rpm (IPL Coupe)
EPA city/highway fuel economy: 19/27 mpg (Coupe/ Sedan, automatic), 18/25 mpg (Coupe/Sedan, AWD), 17/25 mpg (Coupe/Sedan, manual; Convertible, automatic), 16/24 mpg (Convertible, manual)
The Manufacturer's Suggested Retail Prices (MSRPs) for the 2013 Infiniti G37 models start at just under $38,000 for the Journey Sedan, about $41,000 for the Journey Coupe and around $48,000 for the Convertible. The AWD G37x is about $1,500 higher than those amounts and the Sport 6MT models about $4,000 higher. The aggressive IPL models run almost $52,000 for the Coupe and $62,000 for the Convertible. Among German nameplates, those with similar horsepower and features cost significantly more. The residual-value story, however, is less clear-cut. Though a G37 will retain a solid percentage of its original cost over time, and fare better than the Lincoln MKZ, Mercedes-Benz C-Class, Cadillac CTS and Audi A4, it does fall a bit short of the projected residual values of the Acura TSX and Audi A5, and well short of the values of the BMW 3 Series and Lexus ES 350.

To compare current market prices, check out KBB.com's car classifieds to view the new and used Infiniti G vehicles for sale near you.