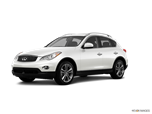 Inspired by its new, more powerful 3.7-liter V6 engine, the Infiniti EX35 becomes the 2013 EX37.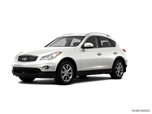 A Homelink universal garage door opener and a new Malbec Black exterior paint scheme mark the changes for the 2012 Infiniti EX.
About Infiniti EX
Instead of offering just another cargo-hauling, people-moving crossover, Infiniti has blurred the lines between form and function with the EX35, creating a vehicle that for all intents and purposes has the basic utility of an SUV but takes its styling cues and driving dynamics from sportier vehicles. The 2008 EX35 is not just a plush "coupe-like" SUV, it is also a showcase of all the advanced technology Infiniti has to offer. Both the self-healing exterior paint and available Around View Monitor are exclusives for the automaker and help set the EX35 apart from competitors like the BMW X3, Acura RDX and Land Rover LR2.