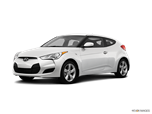 2013 marks the introduction of the Hyundai Veloster Turbo, a more powerful version of the Veloster, which remains in naturally-aspirated form. In addition to the souped-up engine, the Veloster Turbo features unique front and rear styling, bigger wheels and more standard features, including leather seats. Hyundai's first use of a matte gray paint will also see its debut on the Veloster Turbo.
About Hyundai Veloster
In simplest terms the all-new 2012 Hyundai Veloster is a modestly-priced hatchback with an unusual asymmetrical door arrangement, but in Hyundai's eyes, the Veloster is much more. Hyundai views the Veloster as something of a halo car, albeit at the bottom end of the pricing spectrum. That might sound like a lofty view of what is essentially a restyled Elantra, but having driven the 2012 Veloster and seen the public react to it, we think Hyundai might be onto something with all this halo talk. While less powerful than most of its hatchback competitors, the Hyundai Veloster's accessible price, unusual but practical design, excellent fuel economy and utterly unique styling should make it a welcome addition to the compact coupe landscape and an image-enhancing feather in Hyundai's cap.