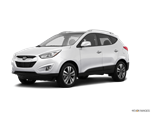 For 2015 the Hyundai Tucson GLS gets a new popular equipment package, while Limited models get standard LED taillights. Southern California buyers can lease a Tucson FCEV for $499 per month, with unlimited free hydrogen refueling and free maintenance.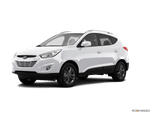 The 2014 Hyundai Tucson adds direct-injection technology to its two engine choices. New standard features include Bluetooth, tilt/telescopic steering column and reclining rear seats. SE trims get a 4.3-inch LCD touch-screen radio with rearview camera, while Limited trims receive Blue Link telematics.
About Hyundai Tucson
The 2015 Hyundai Tucson compact crossover SUV gives established players like the Honda CR-V, Toyota RAV4 and Ford Escape a solid run for their money in style, technology and fuel economy. Available in front- and all-wheel drive (FWD, AWD), its sharp good looks remain modern and fresh, despite the Tucson's many years on the market. Inside there are plenty of high-tech features and a long list of standard equipment at an impressively competitive price, and with Hyundai's industry-leading 10-year/100,000-mile warranty. This year, Hyundai introduces the Tucson FCEV zero-emissions vehicle to limited markets. This electric version doesn't use batteries to store electricity, but is instead refueled with hydrogen to power the fuel cells. The result is EV driving, with only water vapor dripping from the tailpipe.