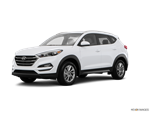 The Hyundai Tucson is totally revamped for 2016. Slightly larger than its predecessor, it has fresh sheet metal that is both stronger and more stylish, a larger interior, and loads of new tech and safety features. A 1.6-liter turbocharged 4-cylinder replaces the larger and less-efficient 2.4-liter 4-cylinder.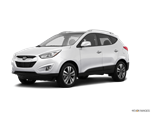 For 2015 the Hyundai Tucson GLS gets a new popular equipment package, while Limited models get standard LED taillights. Southern California buyers can lease a Tucson FCEV for $499 per month, with unlimited free hydrogen refueling and free maintenance.
About Hyundai Tucson
The Hyundai Tucson enters its third generation for 2016 as an all-new compact crossover SUV. Long a competent but rather uninspiring competitor to best-sellers like the Honda CR-V, Toyota RAV4 and Ford Escape, the 2016 Tucson has reinvented itself to pose a credible challenge to such stalwarts. Along with an eye-catching exterior design, this 5-passenger SUV now boasts some of the latest technology and safety aids available, such as automatic emergency braking and pedestrian detection. The Tucson's new 1.6-liter turbocharged 4-cylinder still isn't the strongest in its class, but it does earn up to 33 mpg. With a starting price of under $24,000 and improvements upon its former self in almost every category, the new Tucson is ready to take on the segment's best.