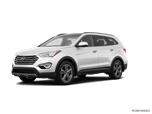 There are a few minor changes to the 2016 Hyundai Santa Fe 7-passanger crossover SUV. The GLS trim is renamed SE and the saddle interior option has been dropped. Hyundai's Smart Liftgate with auto open is made standard on Limited and optional on the SE.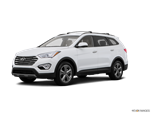 For 2015, Hyundai's Santa Fe crossover SUV receives an upgrade to its driver-selectable power-steering unit, along with revised front bushings. New standard features include daytime running lights and a driver's-side blind-spot side mirror. A new Hands-Free Smart Liftgate with Auto Open is optional.
About Hyundai Santa Fe
While there are numerous 3-row family crossover SUVs from which to choose, picking the Hyundai Santa Fe for 2016 won't leave you with buyer's remorse. The Santa Fe's sleek exterior has the edge on older SUVs such as the GMC Acadia, while steering clear of more polarizing designs like the new Nissan Pathfinder. With seating for seven, a large cargo bay and one of the most powerful V6 engines in its class, the 2016 Santa Fe from Hyundai has no problem handling large loads. It can even match the new Honda Pilot with a tow rating of 5,000 pounds. Toss in Hyundai's 10-year/100,000-mile warranty and rapidly improving reliability and resale figures, and the 2016 Santa Fe crossover SUV begins to seem like a no-brainer.