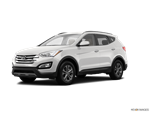 The 2014 version of the Hyundai Santa Fe Sport has relatively few changes. There is an available Blind Spot Detection and rear parking-assist system; the Sport 2.0T is available with HID headlights, LED taillights, rear-window sunshades and standard 18-inch wheels. There also are new premium convenience features.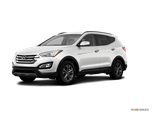 The complete recasting of this compact SUV brings a bolder appearance, impressively enhanced features and a serious dash of performance coupled with a gain in fuel economy to the Santa Fe Sport side of the family. The mid-size 2013 Santa Fe (reviewed separately) replaces the existing Veracruz in the Hyundai lineup.
About Hyundai Santa Fe Sport
The 2014 Hyundai Santa Fe Sport offers a sizable chunk of compact SUV for the money, with distinctive and attractive styling, comfortable seating for five, numerous premium features, responsive and efficient engines, pleasing driving dynamics and pricing to suit average budgets. It's offered with either a 2.4-liter naturally aspirated 4-cylinder engine (Santa Fe Sport) or a strong 2.0-liter turbocharged 4-cylinder (Santa Fe Sport 2.0T), with either powerplant choice available with front-wheel drive (FWD) or all-wheel drive (AWD). Its likely competitors would include, but are certainly not limited to, the Chevrolet Equinox, Ford Edge, Kia Sorento and Toyota RAV4, and the Hyundai Santa Fe Sport should more than hold its own in the contest for potential customers' affections. That's why we named it one of the 10 Best SUVs Under $25,000 for 2014.