Narrow year range (drag arrows to filter):
See photos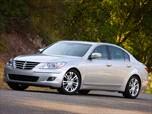 Changes for 2011 are limited to the 4.6 model, which gains an additional 10 horsepower, a faster zero to 60 time (5.3 seconds vs. 5.7 seconds) and the addition of last year's Technology Package – navigation, Lexicon 7.1 Discrete surround sound audio, adaptive cruise control, adaptive headlamps, heated and cooled front seats, front and rear parking sensors and a rearview camera – as standard equipment.
About Hyundai Genesis
The 2015 Genesis sedan is Hyundai's 5-passenger competitor for the Mercedes-Benz E-Class, BMW 5 Series, Audi A6 and Lexus GS. With an elegant, modern look, more luxury and a new attitude, the all-new Genesis – now available with all-wheel drive on V6 models – is even better equipped to go up against these midsize luxury powerhouses than the first generation was. There is a strong emphasis on connectivity and infotainment, which should appeal to a younger affluent audience. What may be most impressive about the new Genesis, though, is the amount of standard equipment you get for a notably lower price than its competitors – and even if you check every options box, the car is still a relative bargain.