2013 Hyundai Genesis Coupe Expert Review
By Jason Allan
KBB Expert Rating: 7.3
Because it has the look, the features and all the right numbers when the rubber meets the road, the 2013 Hyundai Genesis Coupe – even with all its impressive improvements – leaves us wanting for better intangibles. Suspension and driving feel are two of Hyundai's biggest opportunities for improvement, and the opportunity is especially glaring on a rear-drive car designed to deliver visceral thrills. If you want a high-value, high-style, high-power, high-grip coupe, definitely check out the Genesis Coupe. If you demand driving feel and related intangibles, check out your local Scion, Subaru or even your Ford dealer.
You'll Like This Car If...
At base price and fully loaded, the 2013 Hyundai Genesis is a lot of car for the money – thanks in large part to a metric ton of style. Now that the Hyundai badge has shed so much of its baggage, the Genesis Coupe is a nice way to go bold without breaking the bank.
You May Not Like This Car If...
If you like the idea of a performance car that becomes an extension of your mind by way of your hands and (both) feet, consider fighting through the horsepower haze to a Scion FR-S or Subaru BRZ. If you're ready for maximum minimalist enlightenment, meditate on a Mazda MX-5 Miata. And if raw power is indeed priority one, you'll find a more engaging driving partner in the Ford Mustang.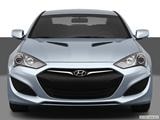 What's New for 2013
The Hyundai Genesis Coupe gets its mid-cycle refresh for 2013, and it's an impressive one. The front end is meaner looking, the engines are much more powerful, and the interior is more stylish.
Driving the Genesis Coupe
Driving Impressions The 2013 Hyundai Genesis Coupe looks like a hot import sports coupe, but drives more like a muscle car. Power is a definite strong suit – the 4- and 6-cylinder...
... engines are both terrific – but the Genesis Coupe doesn't offer the refined man-machine interface or nuanced feedback that separates mere performance cars from true driver's cars. We had a blast in the Genesis Coupe on the racetrack, but when the relationship progressed into a daily routine, the car's steering, shifter and suspension shortcomings amounted to a language barrier. For our money, the Genesis Coupe is at its best when outfitted with the V6 engine and 8-speed automatic transmission – and driven with a smooth, fast, grand touring mindset.
BLUELINK
Find the cheapest nearby gas, dictate and send a text message, get an alert if someone's driving your car somewhere they shouldn't... Hyundai's BlueLink system is full of cool features.

STRIKING STYLING
Can we count sheet metal as a feature? Clearly, one of the Genesis Coupe's strongest selling points is its hot look.
2013 Hyundai Genesis Coupe Details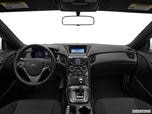 Interior
Interior styling has been a strong point in Hyundai vehicles of late, and for 2013, the Genesis Coupe's comprehensive freshening includes a restyled center stack and the addition of electroluminescent gauges. It doesn't go pound-for-pound with stretch competitors like the Infiniti G or BMW 1 Series, but it definitely offers a richer environment than non-lux foes like the Ford Mustang and Scion FR-S.
Exterior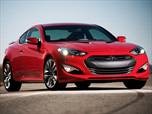 If you dressed a 2013 Hyundai Genesis Coupe in the badges of a less familiar European exotic brand, you could fool plenty of people into thinking you'd made some really insightful investments. It really does carry that kind of presence, especially with the changes for 2013 that include a completely new face highlighted by a big new grille. If you want an affordable, powerful sports coupe that's big, bold and without a hint of retro influence, the Genesis Coupe is it.
Standard Equipment
The 2013 Hyundai Genesis Coupe lineup starts at $25,125 (including destination) with the Genesis Coupe 2.0T. In addition to a turbocharged 4-cylinder engine and 6-speed manual transmission, the base Genesis Coupe features Bluetooth phone connectivity, iPod/USB and auxiliary audio inputs, steering-wheel-mounted audio controls, and automatic headlights. Every Genesis Coupe is covered by a full complement of active and passive safety features, as well as Hyundai's 5-year/60,000-mile bumper-to-bumper warranty and 10-year/100,000-mile powertrain warranty.
Optional Equipment
A fully loaded Genesis Coupe 3.8 Track with automatic transmission tops out at a Manufacturer's Suggested Retail Price of $35,125. In addition to the traditional upgrades – leather seats, moonroof, upgraded audio – upper-tier models offer high-intensity-discharge headlights and LED running lights, proximity-sensing unlock and push-button start, touchscreen navigation, and BlueLink telematics. The racier R-Spec and Track models offer an even stiffer/sportier suspension, a Torsen limited-slip differential, Brembo brakes and 19-inch wheels.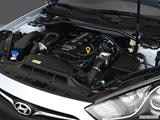 Thanks in part to a new turbocharger, the Genesis Coupe's 2.0-liter 4-cylinder engine now cranks out an impressive 64 more horsepower for a grand total of 274. And with the addition of direct injection, the 3.8-liter V6 is up 42 horsepower to 348. Torque figures are also up and, impressively, so is fuel economy (just a tad). Both engines now offer the choice of a 6-speed manual transmission or a new 8-speed automatic.

2.0-liter turbocharged 4-cylinder engine
274 horsepower (260 w/regular gas) @ 6,000 rpm
275 lb-ft of torque (260 w/regular gas) @ 2,000 rpm
EPA city/highway fuel economy: 21/30 mpg (manual), 20/31 mpg (automatic)

3.8-liter V6 engine
348 horsepower (344 w/regular gas) @ 6,400 rpm
295 lb-ft of torque (292 w/regular gas) @ 5,100 rpm
EPA city/highway fuel economy: 18/27 mpg (manual), 18/28 mpg (automatic)
Not so long ago, value was the only feature Hyundai could hang its hat on. And even then it required an asterisk, because the pricing advantages were mitigated by lagging resale values. Hyundai isn't selling cars for $4,995 anymore, but its lineup offers more value than ever. The 2013 Genesis Coupe has a starting sticker price of $25,125 and tops out at $35,125 when fully loaded, putting it roughly in line with Ford Mustang pricing. If you're looking for a performance coupe and don't find fault with the Genesis Coupe's driving and controls feel, the sticker prices, feature set and resale value qualify it as a smart value.
To compare current market prices, check out KBB.com's car classifieds to view the new and used Hyundai Genesis Coupe vehicles for sale near you.