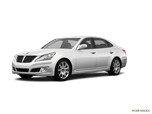 The Hyundai Equus luxury sedan is substantially freshened for 2014 with minor exterior changes, major interior upgrades, and a host of new comfort, convenience and safety features.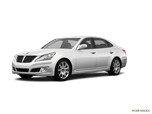 The only change to the Hyundai Equus luxury sedan for 2013 is a new color combination, White Satin exterior with a Saddle interior.

About Hyundai Equus
When Korean automaker Hyundai launched its Genesis near-luxury sedan and sport coupe, many wondered why it didn't also create a new upscale brand as did Japanese rivals Toyota (Lexus), Honda (Acura) and Nissan (Infiniti). Then Hyundai followed with the larger, plusher full-luxury Equus, explaining again that creating a new brand was a long, expensive process that they didn't deem necessary. So this big, lavishly equipped car takes aim at premium sedans costing tens of thousands more. And, if it comes up a bit short of Germany's best in ultimate handling and feel, the 2014 Hyundai Equus has the style, performance, luxury and features to bring its value pitch to the flagship-sedan category, despite sharing its badge and showroom with Accents and Sonatas.