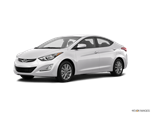 The 2016 Hyundai Elantra compact sedan adds a new Value Edition on the SE trim, while the Sport trim has its leather seating and sunroof deleted. The Limited trim gains standard proximity key and dual automatic temperature control, while the 5-door Elantra GT receives new front-end styling and more features.
After a more thorough refresh last year, changes for the 2015 Hyundai Elantra mostly poke around the edges. There are three new option packages, plus a smattering of new colors. Otherwise, the Elantra is the same sharp-looking compact we've come to know and love.
About Hyundai Elantra
The revamped 2017 Elantra marks the sixth generation of Hyundai's compact sedan, and it returns in prime form to battle against other best-selling rivals like the Honda Civic, Toyota Corolla and Nissan Sentra. As with the rest of Hyundai's lineup, the Elantra boasts stylish looks, premium amenities and a class-leading warranty that includes 10 years/100,000 miles for the powertrain. The standard 2017 Hyundai Elantra has a good blend of refinement, eager driving manners and efficiency, while a forthcoming Eco model promises even greater fuel economy. A sport model will be debut later in the year. All Elantras offer sophisticated design and surprising features at a great value.