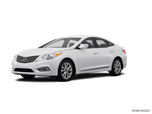 For 2014, Hyundai drops the Azera's price by nearly $1,300, reconfigures some of its content, and adds a new base model that includes a 6-inch color LCD audio display, a rearview camera and a driver's blind-spot mirror. The Limited trim gains a new 8-inch navigation system and power-folding side mirrors.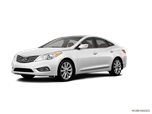 The Azera was completely reinvented just last year, and for 2013, there are no changes except for a 1-mpg improvement in the car's EPA highway rating, to 29 mpg.
About Hyundai Azera
The 2014 Hyundai Azera blends a seductive outer skin with a lush interior filled with premium amenities usually reserved for cars costing tens of thousands more. The Azera is powerful yet relatively fuel-efficient, and although we wish it exhibited a bit more athleticism in the corners, we can't complain about the smooth and well-regulated ride. Positioned against the Toyota Avalon and Nissan Maxima, the Azera's standard content list is impressive, as are its comfortable seats, intuitive electronics and well-appointed interior. As driving tastes can vary, we advise taking the Azera for a good long test drive to judge for yourself, but those looking for comfort over performance will likely enjoy the experience.