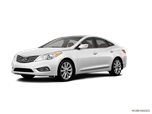 The Azera was completely reinvented just last year, and for 2013, there are no changes except for a 1-mpg improvement in the car's EPA highway rating, to 29 mpg.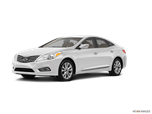 The Azera needed a total makeover, and Hyundai delivered. The name and the badge are essentially all that remain from the previous model.
About Hyundai Azera
Who would have thought the company that brought us the disposable Excel subcompact 25 years ago would now be building a car to rival some of the best near-luxury sedans in America? Hyundai's evolution from an entry-level upstart to a full-line manufacturer of quality automobiles is nothing short of amazing and culminates with its latest achievement, the Azera. Designed to compete with the Buick Lucerne and Toyota Avalon, the Azera offers an impressive array of features (not to mention a huge rear seat) and an unbeatable price. One of the most powerful Hyundais ever built, the company takes pride in pointing out the Azera can dash to 60 miles per hour faster than a BMW 530i or Mercedes Benz S430.