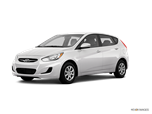 The Hyundai Accent for 2013 sees the base GLS model with a manual transmission gain air conditioning, power side mirrors and a 6-speaker stereo with satellite radio and iPod/USB port. Remote keyless entry and heated side mirrors are standard on all trims, while the SE adds an available power sunroof.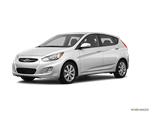 The 2012 Hyundai Accent is completely updated from the model it replaces, boasting a new look, new engine and a host of standard and available features. Also, a new 5-door version joins the line-up.

About Hyundai Accent
Introduced in 1994, Korean-maker Hyundai's Accent led U.S. entry-level car sales from 2000-2005, mostly due to its value for the money and Hyundai's aggressive warranty—despite a reputation for somewhat questionable quality. Now that high fuel prices have this segment heating up, Hyundai's third-generation Accent will have tough new competition for 2007—Korean partner Kia's Rio, Honda's Fit, Nissan's Versa, Toyota's Yaris and Chevrolet's (also Korean-built) upgraded Aveo—but it still should be up to the task.