2014 Honda Ridgeline Review
By KBB.com Editors
KBB Expert Rating: 7.6
Although late with a pickup truck, Honda did it Honda's way, and the 2014 Ridgeline is completely different from the crowd. Instead of a conventional body-on-frame it has unit-construction, is offered in a crew-cab version only, with one bed length and one drivetrain. It's like a mid-size SUV that's been reconfigured into a pickup, and is often described as the perfect truck for folks who have not yet owned a truck. That seems to be fine with its owners, and the Ridgeline fits the niche Honda invented for it. It rides, handles and drives like a car; delivers fuel efficiency roughly equal to a mid-size SUV; and includes numerous innovative features not found elsewhere. The Ridgeline really is like nothing else in the truck market.
You'll Like This Car If...
Occasionally you could use a pickup but are turned off by a truck's roughness, noise, handling and fuel consumption. You don't necessarily haul a lot, but a truck would be handy; you just don't want the harsher side of truck ownership on a daily basis. Hence, the 2014 Honda Ridgeline.
You May Not Like This Car If...
If you tow a trailer larger than 4,500 pounds, haul big loads or work a truck hard, you need a full-size pickup with a V8. But you already know that. There are lots of choices in that category; the Ridgeline is not one of them.
What's Significant About This Car?
New for the Ridgeline for 2014 is the addition to the line of the Special Edition model. It includes 18-inch alloy wheels with black-trimmed spokes, Special Edition badging, the black trim package from the Sport model and the Honda Satellite-Linked Navigation System, with Voice Recognition and Zagat Survey restaurant information.
Driving Impressions Unlike all other trucks, the 2014 Ridgeline is built with unit-construction and fully independent suspension, and it pays huge dividends in ride and handling, which is much more like a...
car than a truck. The ride is smooth and comfortable and soaks up big and little bumps, the handling is rock-steady on the highway and responsive around corners. Even though it weighs around 4,500 pounds, the robust 3.5-liter V6 moves it with ease. The fuel-economy ratings are good but, in view of some of the newer competition in the truck market, not at the top. On occasions we noticed the 5-speed automatic tended to shift a little abruptly, but most folks would likely not notice. In sum, driving the Ridgeline is about as unobtrusive and calm as operating a truck can be. It is certainly the perfect first truck for many buyers.
Favorite Features – Pick two (15-50 words x 2)
DUAL-ACTION TAILGATE
Now why didn't we think of that? The Dual-Action Tailgate can swing down, like a conventional tailgate, or swing open, like door. It's clever and convenient and comes in handy in surprising ways.

IN-BED TRUNK
If more trucks offered independent rear suspension (rather than a live axle), more trucks could offer an in-bed trunk. You have a cooler full of beverages? Put it back there! Need to conceal valuable items too messy to place in the cab? Put them back there!
2014 Honda Ridgeline Details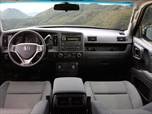 Interior
The designers who crafted the 2014 Ridgeline's interior did just fine on function and layout of controls but could have, in our opinion, made it a little more warm and welcoming. However, the functional aspects are terrific, with storage spots throughout and a clever rear-seat bottom that can be lifted up to increase the available cargo space. And, if you order a Ridgeline with leather, the warm and welcoming factor improves significantly.
Exterior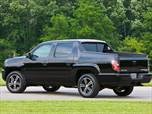 While full-size pickups tend toward the so-called "big rig" look, with massive chrome grilles and in-your-face front ends, the 2014 Honda Ridgeline stays to its own design path. The shape is generally angular, and clearly noticeable are the big C-pillars that certainly enhance structural rigidity but just as certainly give the driver serious blind spots – when changing lanes, use the mirrors. The cargo bed length of five feet is enough for a dirt bike or an ATV, but hauling longer items means dropping the tailgate. And once you get used to that In-Bed Trunk you'll probably never want to give it up.
Standard Equipment
Honda's Variable Torque Management 4WD (VTM-4) works like a charm and, while the Ridgeline is not the best choice for hard-core off-roading, the VTM-4 is a gem of easy operation and useful capabilities when faced with slippery surfaces, such as snow, ice, mud or whatever else messes up the pavement. Additional standard equipment includes an integrated trailer hitch, all the usual power accessories, a power-sliding rear window and a host of convenience features.
Optional Equipment
As is typical of Honda, the options are mostly wrapped into trim levels of RT, Sport, RTS and RTL. The main additions of the Sport are 18-inch alloy wheels and some trim and convenience features. The RTS adds an upgraded 160-watt audio system, dual-zone automatic climate control and an 8-way power driver's seat. The RTL adds leather seating, different alloy wheels, a power moonroof, SiriusXM satellite radio and HomeLink. Navigation is available on the RTL. The Special Edition is new for 2014, and there are numerous dealer-installed accessories.
The only engine available in the 2014 Ridgeline is a 3.5-liter V6 of 250 horsepower. It's responsive, has plenty of power and has proven long-term reliability, but doesn't match the full-size trucks' V8s when it comes to trailer-towing punch. Still, the V6 is smooth, quiet, refined and extraordinarily reliable, and its down-the-highway performance is capable and unobtrusive. It's matched with a 5-speed automatic transmission and, in all Ridgelines, Honda's Variable Torque Management full-time 4-wheel drive (VTM-4) which deals with any weather and surface condition it is likely to encounter. And, if you do pull a trailer, the Ridgeline does just fine with anything up to its 4,500-pound limit.

3.5-liter V6
250 horsepower @ 5,700 rpm
247 lb-ft of torque @ 4,300 rpm
EPA city/highway fuel economy: 15/21 mpg
To compare current market prices, check out KBB.com's car classifieds to view the new and used Honda Ridgeline vehicles for sale near you.