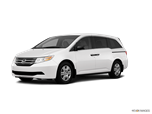 All 2013 Honda Odyssey minivans now come with a standard rear backup camera and a simplified center stack instrument panel with an 8-inch full-color multi-information display screen (i-MID). Bluetooth hands-free phone connectivity and a USB port are also standard.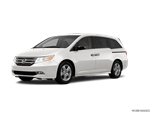 Once exclusive to the EX-L trim, the 2012 Odyssey EX minivan now includes Bluetooth hands-free phone technology, an 8-inch Multi-Information Display (MID), a USB audio interface, and a 2-GB CD library.

About Honda Odyssey
Dads will tell you the best vehicle to transport the wife and kids is a big, burly SUV, but Moms know better. Despite its less-than-macho image, the minivan is still the best family transport ever invented. Large sliding side doors make for quick and easy exits, while a low and level cargo floor means minimal muscle is required when loading. If a minivan is in your future, there are a number of makes to choose from, and at the top of that list is the Honda Odyssey. Revered for its spacious interior, powerful engine, comfortable ride and exceptional safety rating, the Odyssey leaves little room for criticism. About the only deterrent to purchasing an Odyssey may be its high price and limited availability.