2014 Honda Insight Expert Review
By KBB.com Editors
KBB Expert Rating: 6.4
The Honda Insight hasn't been able to match the popularity or fuel economy of the Toyota Prius, but it does boast one characteristic that sets it apart: The 2014 Honda Insight remains the least-expensive new hybrid car you can buy. With its starting price around $19,500, the Honda Insight is over $5,000 less than a base Prius 5-door hatchback. And with its 41/44 mpg ratings, the Insight can certainly take you far for your money. But beyond its laudable fuel economy and tempting starting price, there are compromises. The Insight's driving manners are rather unrefined and lackluster, even for a hybrid, and base models lack common features like cruise control, a USB input and even vanity mirrors.
You'll Like This Car If...
High fuel economy and low ownership cost is the name of the game for the Honda Insight. In addition to its low retail price, the Insight regularly earns a spot on the Kelley Blue Book's 5-Year Cost To Own Awards list.
You May Not Like This Car If...
In addition to being less powerful and less fuel-efficient than a Toyota Prius, the Honda Insight isn't as roomy. Other sore points are the Insight's unrefined hybrid powertrain operation and a climate control system that left us wanting (and too warm in summer). The Prius is a better hybrid, and many gasoline- or diesel-powered cars now offer around 40 mpg or better.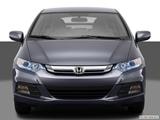 What's New for 2014
The 2014 Honda Insight remains unchanged from the prior year.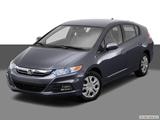 Driving Impressions For better and worse, Honda's Insight puts a priority on efficiency. In the better column, the Insight's combined 42 mpg rating is enviable, especially for the cost of entry. In...
... the worse column come some of the compromises needed to achieve those numbers. We didn't expect the Insight's driving experience to be thrilling, and it isn't. Acceleration in normal mode is just adequate for day-to-day driving, but speed (or lack thereof) isn't our biggest gripe. Rather, it's the noticeable transition of power between the gasoline engine and electric motor that is not as smooth as that of the Prius. Another trait to beware of is how the Insight cuts engine power when idling, such as at stop lights. This saves fuel, but it also can affect the car's climate control, namely the air conditioning. We noticed this most when the A/C turned off momentarily with the engine on a summer day. Back in the better column are the Insight's well-connected steering feel and overall maneuverability.
HATCHBACK DESIGN
Most people buy hybrids for efficiency, and the Insight lives up to that more-with-less mantra not only in fuel economy but also design. With its 5-door profile and folding rear seats, the Insight can hold a good amount of cargo given its compact footprint

COST TO OWN
It's hard to argue with the starting price of the Honda Insight. Even a loaded EX model with navigation comes in under $25,000. Further, the hybrid's low starting price and efficient operation mean low ownership costs in the long run.
2014 Honda Insight Details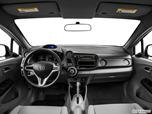 Interior
The Honda Insight's cabin is modern and practical, with seating for five passengers and an appreciable amount of cargo space. Controls for climate function are simple to use and within easy reach, just to the right of the steering wheel. A big green "Econ" button to the left of the steering wheel, meanwhile, ekes out more efficiency by modifying throttle response, air conditioning and how long the engine stops during idle. Cargo flexibility is granted from 60/40 folding rear seats that open up over 31 cubic feet of space when down. The navigation system in top models is showing its age, and functionality for controlling nav and audio functions is hampered by frustrating buttons and touch-based controls.
Exterior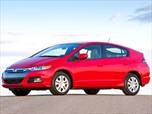 At around 172 inches in length, the 2014 Honda Insight hybrid is deceptively compact – even shorter than a Honda Civic Coupe. That makes this tidy wedge of a car easy to park in both garages or at the mall. The rear of the Insight is especially notable with its split-glass rear window. That feature is aesthetically pleasing from the outside, but can present a blind-spot within from the horizontal line that stretches from one side of the hatchback to the other. In front, the Insight adds visual pizazz with blue-tinted chrome bezels near the grille and around the headlights.
Standard Equipment
Like other Hondas, the Insight is offered in a few trims that bundle features. The least expensive and most Spartan is just dubbed "Insight." Highlights for that base model include automatic climate control and a leather-wrapped steering wheel. But its 160-watt AM/FM/CD system only has two speakers and you'll have to forgo aforementioned features like cruise control. Stepping up to an LX gains two extra speakers and a USB input for audio, cruise control, floor mats, and steering-wheel-mounted controls. EX models add paddle shifters, Bluetooth wireless connectivity, driver and passenger vanity mirrors, 6-speaker audio, and projector-beam headlights. In addition to a nav system, EX models with Navigation have Bluetooth streaming audio and a rearview camera.
Optional Equipment
With Honda's tiered trim system, you won't have to worry about checking many extra boxes when it comes to buying an Insight. In fact, most extras are left to accessories such as a cargo cover, all-season floor mats, and bumper guard. Also of note is satellite radio offered on LX and EX trims.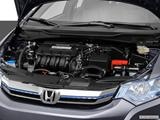 All 2014 Honda Insights are powered by Honda's Integrated Motor Assist system. This hybrid powertrain uses a 1.3-liter SOHC 4-cylinder gasoline engine – boasting i-VTEC variable valve timing – in combination with a 10-kilowatt (13-horsepower) electric motor. The compact nickel-metal hydride battery pack recaptures and stores energy from vehicle braking and deceleration, which the electric motor can then turn into a power boost to aid acceleration. The transmission is a continuously variable (CVT) with paddle shifters on the EX model that allow drivers to have the sensation of manually shifting gears. The engine itself, with but two valves per cylinder, is relatively low tech, but everything else is appropriately high tech.

1.3-liter inline-4 + 10-kilowatt electric motor
98 horsepower @ 5,800 rpm
123 lb-ft of torque @ 1,000-1,700 rpm
EPA city/highway fuel economy: 41/44 mpg
As previously noted, one of the Insight's highlights is its value, both in its initial price and its long-term cost of ownership. The base 2014 Honda Insight hybrid starts at a Manufacturer's Suggested Retail Price (MSRP) of $19,515, while a top-line EX with navigation goes for $24,705. At these prices, the Honda Insight is substantially less expensive than its main rival, the Toyota Prius hybrid, which starts at over $25,000. Before buying, be sure to check KBB.com's Fair Purchase Price to see what others in your area are paying for their new Insight hybrid. In terms of resale value, the Insight's is expected to remain marginal, trailing that of the Prius.
To compare current market prices, check out KBB.com's car classifieds to view the new and used Honda Insight vehicles for sale near you.