2011 Honda Insight Review
By KBB.com Editors
KBB Expert Rating: 5.9
Despite Toyota's dominance as the largest volume seller of hybrid automobiles, Honda has been in the segment since the 1999 introduction of the original Insight. A two-passenger, CR-X-type runabout with an EPA-estimated fuel economy of 61 city/70 highway, its launch was in response to a question few consumers (at that point in time) had asked; a decade later, everyone is seemingly asking. In its second iteration Honda targets the sweet spot of the hybrid marketplace with a 4-door hatchback, a simplified powertrain and an under-$20,000 base price. The product is compelling, but has failed to slow the momentum enjoyed by the Toyota Prius or, for that matter, matched the market mojo of its predecessor on the Honda showroom, the Civic Hybrid. Updates for the Insight in 2011 might move the market, as will the rising price of a gallon of gas.
You'll Like This Car If...
With an EPA rating of 40 city/43 highway the 2011 Insight fails to join the 50 miles per gallon ranks, but its real-world utility – in combination with a well-equipped base price of under $20,000 – should prove compelling to the existing Honda enthusiast. In short, if you like Hondas you'll like the Insight.
You May Not Like This Car If...
Despite the complexity of a hybrid drivetrain, the estimated mileage fails to significantly exceed the best of the new entries in the subcompact segment. Forty mpg would seem to be the new thirty among economy-minded shoppers, and entries from Ford (Fiesta), Chevy (Cruze) and Hyundai (Elantra) might – and possibly should – prove a distraction for the Insight prospect.
What's Significant About This Car?
The addition of a new, value-oriented model – with a base price of just under $19,000 – is the big news, along with additional features in the well-equipped Insight LX. The Insight EX remains available, and is the only Insight with (optional) navigation.
Driving Impressions If kept in perspective, Honda's Insight fully delivers on both its promise and premise. It is 98 horses assisted – strategically – by a 13-horsepower electric motor; all of that...
is delivered to the front wheels via a continuously-variable transmission (CVT). Nowhere in the above menu is there even the suggestion of excitement; only day-in/day-out competence. With that, Honda typically delivers well-connected steering in combination with a well-controlled ride, and despite low-rolling resistance tires the Insight delivers a commendable performance. For driving enjoyment and the promise of decent fuel efficiency, Honda's Fit is undoubtedly the more involving experience. Its estimated mileage, however, is 27 city/33 highway with its 5-speed automatic.
5-Door Profile
Boasting hatchback access and (with rear seats folded) an expansive load floor, the Insight is the new SUV: Sensible Utility Vehicle. With the rear seat folded, the Insight offers over 31 cubic feet of cargo volume – and does so within an overall length of but 172 inches.

Eco Assist
As a driver-selected fuel efficiency feature, you don't have to do it. But given your purchase of Honda's Insight hybrid, why wouldn't you? In the fuel efficiency equation, Eco Assist makes you smarter by teaching you how to drive more efficiently. And smarter saves you money while reducing your environmental impact.
2011 Honda Insight Details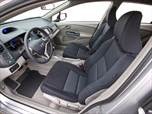 Interior
The 2011 Honda Insight's interior space is defined by its 5-door configuration. And like other small hatches, the end result – in both design and utility – far exceeds expectations. Your initial impression, however, is formed by the instrument panel, which does exactly what a panel for a hybrid should do: Familiarize you with the here-and-now, while communicating a futuristic perspective on what's to come. And with what Honda calls Eco Assist, drivers are provided feedback designed to enhance their real-world fuel economy. An ECON button enhances that efficiency by adjusting throttle control, the CVT's operation, idle-stop duration and a/c operation. Of course, if while monitoring the dash you happen to hit something, you'll be protected by a competitive assortment of airbags: front, front-side and side-curtain.
Exterior
If, when planning the original Insight, Honda had a CR-X in the styling studio, no one would fault them. If, however, while planning the current Insight Honda had a Prius in the styling studio, no one would be surprised. In its wedge-like exterior profile the Insight is a dead ringer for the 2nd generation Prius, and while 5-door profiles will typically share styling elements based solely on the number of doors and approximate size, the Insight comes closer to looking like a Prius than looking like any contemporary Honda. We'll note – as Honda does – some similarity with Honda's FCX fuel-cell concept in the nose, but the similarities essentially end there. If you like Toyota's Prius from fifty feet away, there's no reason to dislike the Insight from the same perspective.
Standard Equipment
As with most Honda offerings in the U.S., the marketing execs have worked to keep the purchase of an Insight very simple. The new-for-2011 base model is (obviously) more spartan than LX or EX, but still comfortably equipped (automatic climate control, power windows with auto up/down, tilt-and-telescopic steering column, manual height adjustment for the driver, etc.). The LX ups the ante with cruise control, a USB audio interface, center armrest storage and floor mats.
Optional Equipment
The EX moves the Insight several steps north with steering-wheel mounted audio controls, alloy wheels, six-speaker audio system, heated side mirrors and – exclusive to the EX – available navigation. With a 6.5-inch screen and voice recognition, the system also includes Bluetooth hands-free operation of your mobile phone, along with relevant steering wheel controls.
Whereas the original Insight went for three (cylinders), today's Insight goes for four. All 2011 Honda Insights – regardless of trim – are powered by a 1.3 liter SOHC four cylinder boasting i-VTEC, in combination with a 10-kilowatt (13-horsepower) electric motor incorporated via Honda's Integrated Motor Assist hybrid system. The compact (nickel-metal hydride) battery pack recaptures and stores energy from vehicle braking and deceleration. The electric motor will provide additional power for acceleration, and can propel the car exclusively on electric power in some low speed conditions. The engine itself – boasting but two valves per cylinder – is relatively low tech; everything else is appropriately high tech.

1.3-liter in-line 4 (plus 10-kilowatt, 13-horsepower electric motor)
98 horsepower @ 5800 rpm
123 lb.-ft. of torque @ 1000 rpm
EPA city/highway fuel economy: 40/43
To compare current market prices, check out KBB.com's car classifieds to view the new and used Honda Insight vehicles for sale near you.