Narrow year range (drag arrows to filter):
See photos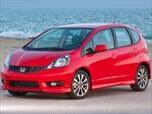 Joining the lineup for 2013, the new battery-electric Fit EV represents Honda's first attempt at a modern electric car in the U.S. market. Given its $37,000-plus sticker price (final cost after the 36-month lease, incentives included), only 1,100 copies will be produced over the next three years, with availability limited to all but a handful of states.
About Honda Fit
Now in its third generation, the 2016 Honda Fit 5-door subcompact continues to prove that subcompact cars can aspire to more than just basic transportation. The Honda Fit's so-called Magic Seat lets owners maximize cargo area easily, all without compromising the surprisingly large rear seat. The little engine and continuously variable automatic transmission (CVT) ensure excellent fuel economy, while the light weight and small size mean you don't feel like you've been shortchanged when it comes to acceleration. In fact, thanks to the sharp steering and nicely balanced suspension, a new Honda Fit handles better than you may think. Compared against rivals like the Nissan Versa Note, Ford Fiesta and Hyundai Accent, the 2016 Fit is a near-ideal blend of value, fun and practicality.