2007 Honda Fit Review
By KBB.com Editors
Cars match their cultures. In many places where space is at a premium and gas is pricey, smaller is better. That's why the roads of Europe and Asia are populated by little cars with small appetites. But in America, land of super highways and sun blocking SUVs, bigger is usually better, and our cars follow suit. For years, Honda's smallest stateside car has been the Civic, however, like many Americans, American Civics have put on some pounds (and price) over the years. So much so that a gap began to appear at the entry level, as Civic inched upstream. Korean manufacturers have been happily vying to fill the void. Now, Honda rejoins the battle for subcompact supremacy, with the introduction of the new Fit.
You'll Like This Car If...
Fuel economy and a flexible floor plan are this Honda's hallmarks. Those who like their small cars big on the inside will find the Fit a good fit. Adult-sized room front and rear plus cargo space is rare in a subcompact. Rare, too, are trips to the gas station in the Fit, with an EPA estimated 33 miles per gallon in the city, and 38 on the highway.
You May Not Like This Car If...
The Fit's "park it anywhere" dimensions are easy to live with, and especially prized in the cozy confines of city driving. However, if jousting with trucks and SUV's on the highway in a small subcompact makes you uncomfortable, you might be happier in a larger car.
What's New for 2007
The Honda Fit plugs the gap at the entry-level end of the Honda lineup, a spot vacated by the Civic as it crept upstream. While new to the U.S. market, the Fit itself isn't new. The car has already sold over one million units in over 70 counties, where it's known as the Jazz.
Driving Impressions The Fit's subcompact size and good pickup make it well suited for skating through traffic. As with most small-engine cars, the Fit responds best with a manual transmission....
Passing takes planning, but highway travel is unstressed. The shifter has a snappy action, and the suspension has a notably polished feel for a small economy car. Ride and handling rival anything in the subcompact class. The electric power steering has a comfortable heft, and sight lines for the driver are good. It's rare to find this much head and leg room for four people in a vehicle this size. Outdoor types will appreciate the ability to pack a mountain bike in back with wheels on, or flop down the front seat and slide surfboards, skis or snowboards inside for the ride.
Flexible Floor Plan
The Fit's most endearing trait is its flexible floor plan. Clever design allows the seats to be easily and intuitively configured in many usable layouts. This small car is deceptively large inside, and its ability to handle people or parcels in any combination is unusual in any segment, and especially among subcompacts.

Refined Handling
With a stick shift and a bit of twisty road, the Fit is surprisingly entertaining to drive. The suspension comes in for most of the praise here. The chassis has a level of refinement in ride and handling that belies its price point.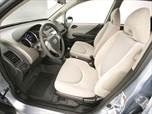 Interior
The Fit's cabin impresses with its design and utility. It's surprisingly big inside for a small car, with room for six footers in both rows—something that can't be said about many subcompacts. Cargo space ranges from 21.3 cubic feet to 41.9 cubic feet, depending on how you configure the split rear seats. The Fit has a low floor, and the seats fold flush to maximize room. Rear seatbacks can be flipped up, so that you can store items up to 50 inches tall inside. The front passenger seat doubles forward to accommodate long items, be they surfboards or step ladders. Finally, both front and rear seats recline, turning the Fit's cabin into a chaise lounge on wheels. The acrobatic seats transition easily to the desired floor plan, thanks to intuitive controls. Dashboard switchgear is easy to reach and simple to use. Sport level seats are well-bolstered for support, though they lack an inside arm rest to park your elbow on. The combination of a low floor and tall roofline make for enough headroom to withstand a stovepipe hat revival.
Exterior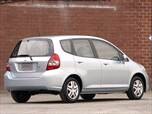 Some cars, like some people, look better in person than they do in pictures. So it is with Fit. The sharp sloping nose and slash-cut headlamps give it a fresh, modern face, but the degree of drop-off also means that the driver will never see the front end of the car from inside. Compared to the Civic, the new entry is 3.5 inches taller, 19.2 inches shorter and 2.8 inches narrower. The side view shows Fit's small-but-tall design, hinting at the utility inside. The rear section cuts off quickly, with little overhang. Overall, the lines suggest function more than fashion.
Standard Equipment
Honda's latest entry features a high level of standard safety gear, including dual front, front-side and side-curtain airbags, and anti-lock brakes. An AM/FM/CD sound system with four speakers is included, as are air conditioning and a handful of power assists for windows, mirrors, door locks and steering.
Optional Equipment
The Fit is offered in two trim levels. The step-up, "Sport" version adds both dress up items for the body and upgrades for the cabin. Among the former are a rear roofline spoiler and rocker panel flares, fog lamps and 15-inch alloy rims. Counted among the latter is an upgrade to the audio system (200 watts, six speakers, MP3/WMA playback capability with an auxiliary input jack) as well as cruise control. Sport models also boast a security system with keyless remote entry and steering wheel-mounted paddle shifter controls (on vehicles equipped with automatic transmission). Owners can choose from over 30 dealer-installed accessories to personalize their purchase. Selections include interior/exterior trim and an Apple iPod Music Link.
Honda offers one motor and two transmission choices in the Fit. Though small in size, the 1.5-liter engine has enough power to feel lively around town and cruises comfortably at highway speeds. Buyers who choose the five-speed automatic transmission in Sport models have the option of using paddle shifters on the steering wheel. Paddles are a novelty in this segment, but if you like to shift it yourself, you're advised to try the five-speed manual. The shifter has a short throw and a fun feel, and the engine is more responsive with the stick. The engine gets a little loud in its upper registers, something that is more noticeable in automatic-equipped models.

1.5-liter in-line 4
109 horsepower @ 5800 rpm
105 lb.-ft. of torque @ 4800 rpm
EPA city/highway fuel economy: 33/38 (manual), 31/38 (automatic), 31/37 (Sport automatic)
To compare current market prices, check out KBB.com's car classifieds to view the new and used Honda Fit vehicles for sale near you.