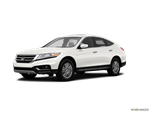 On the heels of last year's makeover, the Honda Crosstour carries over unchanged for the 2014 model year.
About Honda Crosstour
Slotting somewhere between a wagon and crossover SUV, the 2014 Honda Crosstour looks like nothing that's roamed our roads before. As a sedan, wagon and SUV all rolled into one, the Crosstour could be considered a vehicular jack-of-all-trades – at least on paper. Because at the end of the day, the Honda Crosstour's one-size-fits-all nature brings about a number of compromises. For instance, the Toyota Venza, Ford Edge, and Subaru Outback simply outclass the Honda Crosstour when it comes to cargo space, while sedans like the Subaru Legacy and Ford Fusion offer superior driving dynamics as well as available all-wheel drive. For all its limitations, however, the 2014 Crosstour is, after all, a Honda. That brings with it a reputation for quality, fuel efficiency, and reliability.