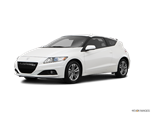 The Honda CR-Z sees a number of revisions for the 2013 model year. Chief among them are a new lithium-ion battery pack, freshened front-end styling, a modest horsepower increase from 122 to 130, and an expanded list of standard features.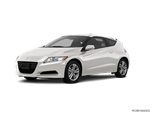 The only significant change for the 2012 Honda CR-Z hybrid is the addition of available black cloth seats on cars wearing Crystal Black Peal paint.

About Honda CR-Z
Remember the Honda CRX? It was a nifty little two-seater compact sports car that handled better than it accelerated and, although it wouldn't be considered fast by today's standards, it was definitely fun to drive – and it delivered good fuel economy. Honda stopped making the CRX in 1991, but the car maintains a cult following to this day. Enter the all-new 2011 Honda CR-Z. It's what the CRX might have evolved into had Honda kept it around all these years. Like its predecessor, it's not fast but it is fun to drive and, with a hybrid heart and sport-compact footwork, this new entry brings something different to the table.