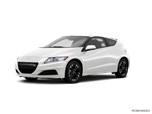 After a major upgrade last year, Honda lets the CR-Z sail into 2014 unchanged.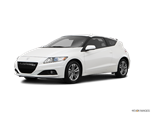 The Honda CR-Z sees a number of revisions for the 2013 model year. Chief among them are a new lithium-ion battery pack, freshened front-end styling, a modest horsepower increase from 122 to 130, and an expanded list of standard features.
About Honda CR-Z
If you think small, inexpensive hybrids are long on economy and short on fun, slip your skeptical self behind the wheel of a Honda CR-Z. While it's no Subaru BRZ, the 2014 CR-Z is a fun, sporty and efficient commuter car, forged in the tradition of the classic Honda CRX of the 1980s and `90s. The front-drive CR-Z is a 2-door hatchback with room for just two people but with a pretty big cargo hold. Unlike the compact and lightweight CRX, the CR-Z employs a more substantial platform to accommodate both the hybrid drivetrain and the additional safety features required of today's cars. While there are more efficient hybrid cars, not many of them are as stylish or fun to drive, and you certainly won't find them with a manual transmission.