2014 Honda CR-Z Expert Review
By KBB.com Editors
KBB Expert Rating: 7.6
If you think small, inexpensive hybrids are long on economy and short on fun, slip your skeptical self behind the wheel of a Honda CR-Z. While it's no Subaru BRZ, the 2014 CR-Z is a fun, sporty and efficient commuter car, forged in the tradition of the classic Honda CRX of the 1980s and `90s. The front-drive CR-Z is a 2-door hatchback with room for just two people but with a pretty big cargo hold. Unlike the compact and lightweight CRX, the CR-Z employs a more substantial platform to accommodate both the hybrid drivetrain and the additional safety features required of today's cars. While there are more efficient hybrid cars, not many of them are as stylish or fun to drive, and you certainly won't find them with a manual transmission.
You'll Like This Car If...
If you're looking to satisfy your green side, but you can't abide driving a generic hybrid like the Prius or Insight, the 2014 Honda CR-Z deserves a long look.
You May Not Like This Car If...
If you have room for only one car, the CR-Z's lack of a back seat might make it a tough car to live with. There are more fuel-efficient hybrids out there and more powerful high-mileage cars, such as the diesel-powered VW Golf TDI.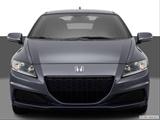 What's New for 2014
After a major upgrade last year, Honda lets the CR-Z sail into 2014 unchanged.
Driving Impressions If you're hoping to experience the same agile performance attributed to the old CRX in its heyday, you're going to be somewhat disappointed. That's not to say the CR-Z hybrid...
... for 2014 isn't fun to drive, it's just a heavier car that leans more toward comfort and economy than all-out performance. The CR-Z's electric motor adds a big dose of "go" in pure torque, which helps with acceleration from a stop or when passing. The CR-Z's handling and braking qualities are vastly superior to most hybrids and should go a long way to satisfy those who know the difference between driving a car and steering one. With Honda's 3-mode drive system, drivers can select between an efficiency-friendly Econ mode, a balanced Normal mode or a responsive Sport mode. Accelerator-pedal response is damped and the steering feel is lighter in Econ mode, while Sport mode increases steering effort and throttle response for a very un-hybrid-like driving experience.
PLUS SPORT SYSTEM
Similar to automotive video games of yore, the Sport Plus button found in the 2014 CR-Z primes the powertrain for a quick burst of power to assist with passing or merging moves.

6-SPEED MANUAL TRANSMISSION
Although it comes with a slight penalty in fuel economy, we liked the crisp shifts and close gear ratios of the standard 6-speed transmission.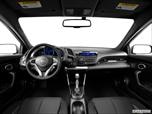 Interior
Where all hybrid cars have additional gauges and playful readouts to make them appear more futuristic, the 2014 Honda CR-Z hybrid's cockpit looks like something from a pseudo-sci-fi film. Worry not, though, for in typical Honda style all of the CR-Z's controls are logically placed and easy to operate. We particularly like the placement of the climate controls, which reside just to the right of the steering wheel. The sport seats are nicely bolstered and very comfortable, but Honda does not offer a leather seat option, and black is the only interior color scheme available on most models.
Exterior
Some may see the 2014 Honda CR-Z as a coupe version of the Insight or the rebirth of the CRX, but however you look at it, the CR-Z is like nothing Honda has built before. Designed using a "one motion wedge" concept, the CR-Z projects an unconventional image, and actually appears a bit sinister. From its trapezoidal wide-mouth grille to its half-glass rear hatch, the CR-Z's exterior seems to flow in one continuous line as though carved from a single steel billet.
Standard Equipment
Unlike many of its compact-car rivals, the 2014 Honda CR-Z offers most of today's must-have features as standard issue. Those include such niceties as a rearview camera with guidelines, Bluetooth connectivity, aluminum-alloy wheels, automatic climate control and a multi-information display. Notable audio hardware consists of six speakers, a USB port for portable music players and a 160-watt receiver. All CR-Z hybrids protect occupants with six airbags, the usual helping of electronic stability controls, and active head restraints that help reduce the severity of whiplash-related injuries.
Optional Equipment
As is the case with all Honda vehicles, most optional features available on the 2014 CR-Z can be acquired by stepping up to a higher trim level. Trading up from the base model to the EX trim lands you xenon headlights, which are up to three times brighter than traditional halogen systems, LED daytime running lights and a 7-speaker premium audio system with a subwoofer. While its capabilities are comparatively outdated, a touch-screen navigation system with a basic text messaging function is available on EX models.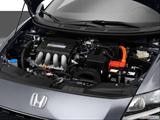 The gasoline/electric powertrain comprises a 1.5-liter i-VTEC engine mated to a 15-kilowatt motor, combining to deliver 130 horsepower. This combination is the sixth iteration of Honda's Integrated Motor Assist (IMA) technology since its debut in the original Honda Insight for the 2000 model year. While 130 horsepower might not sound like much, the broad torque curve makes freeway passing and darting through intersections a breeze. One feature we did not care for was the auto-stop feature, which is a fuel-saving measure that turns off the engine at a complete stop and often causes the vehicle to judder upon restarting. If you find a row-it-yourself gearbox unappealing, every CR-Z model can be fitted with a gearless continuously variable automatic transmission (CVT).

1.5-liter gasoline engine + Integrated Motor Assist (hybrid)
130 horsepower @ 6,000 rpm
140 lb-ft of torque @ 1,000-2,000 rpm (manual); 127 lb-ft of torque @ 1,000-3,000 rpm (CVT automatic)
EPA city/highway fuel economy: 31/38 mpg (manual), 36/39 mpg (CVT automatic)
The 2014 Honda CR-Z has a starting Manufacturer's Suggested Retail Price (MSRP) of just under $21,000. A fully loaded CR-Z EX with navigation and CVT sells for just under $25,000. The majority of 5-door compact cars begin in the $17,000 range, while a comparably equipped Mini Cooper shares a similar starting price with the CR-Z. To see what others in your area are paying for the 2014 Honda CR-Z, take a peek at KBB.com's Fair Purchase Price located at the bottom of this page. Down the road, we expect the resale value for the 2014 CR-Z to hold its own against competitors like the Hyundai Veloster, Mini Cooper and Toyota Prius C.
To compare current market prices, check out KBB.com's car classifieds to view the new and used Honda CR-Z vehicles for sale near you.