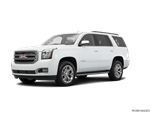 With such a complete makeover last year, GMC sends the Yukon into 2016 with only minimal additions. There's an enhanced GMC IntelliLink system with Apple CarPlay capability, an updated Driver Alert Package, an enhanced Security Package, a hands-free liftgate (standard on the SLT), and there are some new colors.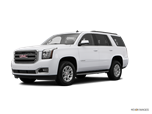 The 2015 GMC Yukon is all new, with new exterior styling, and a fresh and comfortably luxurious interior. But the changes are more than cosmetic: Under the sheet metal is a new chassis and suspension, and the two V8 engines are significantly improved for more power and better fuel economy.
About GMC Yukon
Among full-size SUVs nothing stands above the GMC Yukon, not in its combination of size, power, luxury, capabilities and commanding presence. Available in Yukon and the longer Yukon XL, and in trim levels of SLE, fully-outfitted SLT and range-topping Denali, the Yukon gets its top billing the old-fashioned way: It earned it. If you need any more convincing, consider the Denali. It retains its unmatched 6.2-liter 420-horsepower V8 and adds an astonishing level of comfort, convenience, luxury and technology features; there has never been a full-size SUV quite like this. And the customers agree, with about 60 percent of Yukon buyers being seduced by the Denali's undeniable charms. If you're looking for the top of the SUV category, this is it.