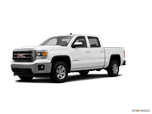 From its exterior and interior design to its three engine choices, the GMC Sierra is all-new for 2014. Gone is the slow-selling hybrid version.
About GMC Sierra 1500 Crew Cab
Like its near-twin the Chevrolet Silverado, the slightly more upscale GMC Sierra arrives in fresh form for 2014 with more power and a well-designed interior blessed with the latest tech and safety features. The 2014 Sierra still spans a variety of trims and configurations to appeal to a broad range of pickup buyers, from a rather basic work truck to the leather-laden Sierra Denali. All benefit from new V6 and V8 engines that can pull more than their predecessors yet travel a bit farther on a gallon of gas. While it's no secret that brand loyalty is a key buying factor in a segment that includes the Ford F-150, Ram 1500 and Toyota Tundra, the Sierra distinguishes itself from rivals with surprising creature comforts and potent powertrains.