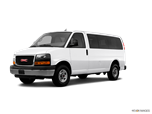 For 2013, the GMC Savana, in both Passenger and Cargo Van forms, just adds three new options: a rearview camera, sonar-based parking assist and an audio system that includes navigation.
About GMC Savana 2500 Passenger
The 2009 GMC Savana is a favorite of small business owners and working people everywhere. No pickup or SUV can match the Savana's cargo-hauling capabilities, nor can they be so easily retrofitted to serve specific needs. Be it a rolling carpenter shop or a 15-passenger transport, the Savana serves an important role in an ever-more-mobile society. GMC, however, can no longer afford complacency now that Dodge has replaced its long-running Ram van with the European-inspired Sprinter Van. An excellent work truck, the Sprinter does not yet rival the Savana in the luxury conversion van field, although Ford does offer a full-size van that can go toe-to-toe with the Savana.